Staff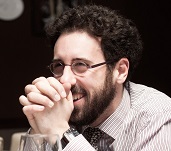 Dr David Faraci,
PhD
(email at david.n.faraci@durham.ac.uk)
About Me
I am originally from New Jersey, USA. I received my BA in philosophy from Rutgers University in 2004 and my doctorate in philosophy from Bowling Green State University in 2012. Between 2012 and arriving in Durham in 2018, I taught at Virginia Tech, the University of North Carolina at Chapel Hill, and Georgetown University.
Research Groups
Research Interests
Metaethics
Applied Ethics (esp. Business Ethics)
Epistemology
Moral Responsibility
Publications
Book review
Chapter in book
Faraci, David & McPherson, Tristram (2017). Ethical Judgment and Motivation. In The Routledge Handbook of Metaethics. McPherson, T. & Plunkett, D. New York; Abingdon: Routledge. 308-323.
Faraci, David (2017). On Leaving Room for Doubt: Using Frege-Geach to Illuminate Expressivism's Problem with Objectivity. In Oxford Studies in Metaethics. Shafer-Landau, R. Oxford: Oxford University Press. 12: 244-264.
Faraci, David & Shoemaker, David (2014). Huck vs. Jojo: Moral Ignorance and the (A)symmetry of Praise and Blame. In Oxford Studies in Experimental Philosophy. Knobe, J., Lombrozo, T. & Nichols, S. Oxford: Oxford University Press. 1: 7-27.
Faraci, David (2009). Heroes and the Ethics of Time Travel: Does the Present Matter? In Heroes and Philosophy: Buy the Book, Save the World. Irwin, W. & Johnson, D. John Wiley & Sons. 140-154.
Journal Article