Overview
Professor Angela Woods
Professor of Medical Humanities
--- Biography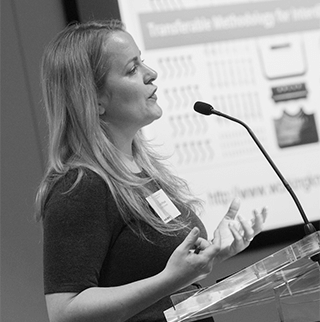 I am an interdisciplinary medical humanities researcher working at the intersections of cultural theory, psychology, philosophy and literary studies. I am Director of Durham's Institute for Medical Humanities and from 2012-2022 was Co-Director of Hearing the Voice, a decade-long interdisciplinary study of voice-hearing currently funded by a Wellcome Trust Humanities and Social Sciences Collaborative Award.
I completed my PhD in Literary and Cultural Studies at the University of Melbourne, where I also lectured in Postmodernism and was the lead curriculum designer of Australia's first interdisciplinary coursework degree for doctoral students. I joined Durham University's Centre for Medical Humanities in 2010 and until August 2017 was based in the School of Medicine Pharmacy and Health.
My first book, The Sublime Object of Psychiatry: Schizophrenia in Clinical and Cultural Theory, was published in 2011, and my current research interests include the interplay between theoretical and subjective accounts of unusual experience and new modes of 'doing interdisciplinarity', especially within the critical medical humanities. I am founding editor of The Polyphony and a Series Editor for Bloomsbury's Critical Interventions in the Medical and Health Humanities book series. I have previously served as Associate Editor of the BMJ Medical Humanities Journal, and as academic lead for the world's first major exhibition on voice-hearing, Hearing Voices: Suffering, Inspiration and the Everyday.
I am an experienced supervisor of interdisciplinary doctoral and postdoctoral projects and have co-supervised candidates based in Psychology, Geography, Anthropology, Philosophy, Education and English Studies, as well as in clinical practice. I currently co-supervise two PhD students funded by the Wellcome Trust: Katharine Cheston, who is studying women's experiences of the shame and stigma of living with complex, poorly-understood medical conditions, and Ariel Swyer, who is examining non-clinical voice-hearing in the context of voice hearers' lives.
Research interests
Critical Medical Humanities
Voice-Hearing - Phenomenology
Voice-Hearing - Hermeneutics
Narrative approaches to mental health
Interdisciplinary Research & Practice
Awarded Grants
2021: Extension Grant for the Institute for Medical Humanities, Durham(£275279.18 from Wellcome Trust)
2018: The Northern Network for Medical Humanities Research(£56147.00 from Wellcome Trust)
2017: Collaboration in the Critical Medical Humanities(£15000.00 from The British Academy)
2017: Development of the Durham Centre for Medical Humanities(£262643.62 from Wellcome Trust)
2017: Hearing the Voice 2(£511939.10 from Wellcome Trust)
2015: Hearing the Voice 2(£1300958.88 from Wellcome Trust)
2014: The Edinburgh Companion to Critical Medical Humanities: An international Workshop (£4664.00 from Wellcome Trust)
2012: Hearing the Voice(£332610.00 from Wellcome Trust)
2011: IAS Workshop on Voice-Hearing - 24 & 25 November 2011(£4366.00 from Wellcome Trust)
Esteem Indicators
2020: Series Editor, Bloomsbury's Critical Interventions in the Medical and Health Humanities:
2019: Chair, Wellcome Trust Medical Humanities Interview Committee, 2019-:
Supervision students
Ms. Ariel Swyer
Research Postgraduate