Profiles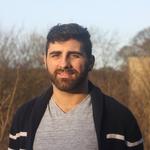 Dr Logan Williams
Contact Dr Logan Williams (email at logan.a.williams@durham.ac.uk)
Current Research
My current research project explores the intersection between visual culture, divine epiphany, and ancient Jewish conceptions of the high priestly garments. I construct a theoretical framework which captures how images (specifically cult statues in the Greco-Roman world) enabled humans to encounter the divine, and I apply this framework to Jewish texts which suggest that seeing the aesthetic beauty of the high priest provokes viewers to worship. This project is provisionally entitled The Epiphanic Aesthetic of the High Priest: Visuality and Ritual in Ancient Judaism.
Thesis
In my doctoral thesis, entitled Love, Self Gift, and the Incarnation: Christology and Ethics in Galatians in the Context of Pauline Theology and Greco-Roman Philosophy, I argued against the notion that Paul's configuration of prosocial behaviour (love) starkly deviated from the Greco-Roman philosophical/ethical tradition. Whereas it is often asserted that Paul's 'selfless' or 'self-sacrificial' love-ethic ('Agape') subverts the essentially 'self-interested' Greco-Roman ethicists ('Eros'), I contended that neither Paul nor these philosophers can be properly interpreted within the modern dichotomy between altruism and egoism. After providing a fresh reading of four key philosophers (Plato, Aristotle, Seneca, and Cicero), I used Galatians as a test case to explore Paul's christology and ethics as idealising not self-sacrifice but rather shared selfhood. On the basis of his incarnational christology, Paul encourages believers not to deny self-interest but rather to avoid setting the self in competition with others; his ideal for loving relationships is that the interests of the community would become essentially shared.
Research Interests
Letters of Paul
Eros in Greco-Roman Literature
Visual Studies
Priesthood (and Priestly Garments) in Ancient Judaism
Jewish Apocalyptic Literature
Publications
Edited book
Meron Gebreananaye, Logan Williams & Francis Watson (Forthcoming). Beyond Canon: Early Christianity and the Ethiopic Textual Tradition. Library of New Testament Studies. T&T Clark.
Chapter in book
Logan Williams (Accepted). 'Debating Daniel's Dream: The Synoptics and the Similitudes of Enoch on the Son of Man'. In Beyond Canon: Early Christianity and the Ethiopic Textual Tradition. T&T Clark.
Logan Williams (2019). 'Giving the Self through Death: A Crucified Christ as Gift in Galatians'. In Suffering and the Christian Life. Davies, Rachel & Kilby, Karen Bloomsbury T&T Clark. 23–32.
Journal Article
Related Links