Dunelm Magazine
Read the latest issues of the Durham University alumni magazine online. The magazine is published annually.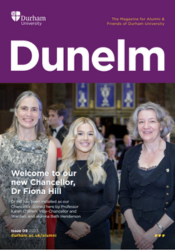 Issue 09 - 2023
Welcome to our new Chancellor, Dr Fiona Hill
Acclaimed foreign affairs specialist and authority on Russia and European geopolitics, has been installed as our new Chancellor
Research to empower and inspire
We conduct innovative and impactful research to transform lives and make a difference, globally and locally.
A look at our positively thriving environment!
Our resident animals and global commitment
Inspiring the Great Journalistic Minds & Leaders of Tomorrow
The Sir Harry Evans Memorial Fund.
Celebrating County Durham's Cultural Heritage
Forging strong relationships through our support of the bid for the City of Culture 2025.
Celebrating the Return of Congregation Ceremonies
Congratulations to all our graduating students in the first ceremony for over two years.
Astronomy and Cosmology - Improving Life on Earth
Celebrating the success of Durham University in Astronomy and Cosmology.
Durham's Olympic Successes
A record-breaking eight Durham University students welcomed home.
Ruth First in the North
The 40th anniversary of the assassination of Ruth First, the anti-apartheid activist and Durham University lecturer.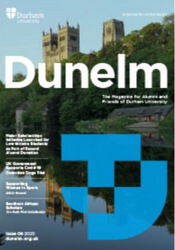 Covid-19 Detection Dogs Trial
Durham's research on specially-trained bio-detections dogs.
Durham's Olympic Hopefuls & Supporting Women in Sport
New dates for the Tokyo Olympic Games. How training at Durham helped a pioneer in women's sport.
Supporting Local Students
Bringing Durham's education within reach.
South African Scholars
Ruth First Scholarship.
Ocean Wang and Smiti Kumar
Meet two of our star ambassadors.
Sue Flood and Pat Morton
Stories from two of our alumnae.
Inspiring the Extraordinary
Looking forward to our newest sports facilities and continued success.
Action on Natural Disasters Appeal
How your support has made a difference.
Issue 04 - 2018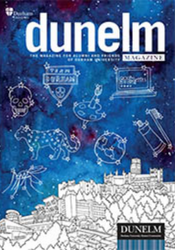 Coach Annie Breaks Football Glass Ceiling
Interview with alumna Annie Zaidi.
Women in Tech
The Anne-Marie Imafidon Scholarships for Women in Technology.
Smiti Brings Her Marketing Flair to Dunelm USA
Interview with alumna and President of Dunelm USA, Smiti Kumar.
Australian of the Year
Durham alumna, Professor Michelle Simmons, making it big Down Under.
Survey Feedback
What you said in our 150 Alumni Survey last year.

150th Anniversary Celebrations Report
What happened in the 150th year of alumni support in 2016.
University Strategy 2017-27
The start of a 10-year plan for Durham.
Saving Primates
Durham research on helping endangered animals.
Bodies Found Under Palace Green
Durham's Archaeological Dig.
What To Do If You're Hearing Voices
Three Myths Busted.
Big Events for the Anniversary
How To Join In.
New Leadership for the University
What It Means For The Future of Durham.
The First Woman Bishop in the Church of England
A Durham Alumna.
What the Colleges Mean To Me
Chair of Council Reflects.
Professor Joe Elliott
On the Dyslexia Debate.
Top 100 in the Times Higher Education World Reputation Review rankings 2015. The Times and The Sunday Times Sports University of the Year 2015.