Partner Libraries
Durham Cathedral Library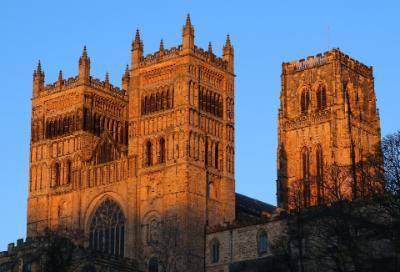 Durham Cathedral Library is administered by Durham Cathedral staff and comprises:
The Sharp Library of modern theology
The Chapter Library of modern history and local history
The Special Collections of rare books, with Antiquarian and Music Manuscripts
These collections are accessed via the Dormitory or Open Treasure Exhibition off the Cathedral Cloister.
The medieval manuscripts and early printed books are currently accessed at University Library and Collections' Palace Green Library.
For more information, including catalogue information on all the collections, please visit our Durham Cathedral Collections guide.
Further information on access, contact details and procedures for booking appointments can be found at Durham Cathedral Library.
Ushaw College Library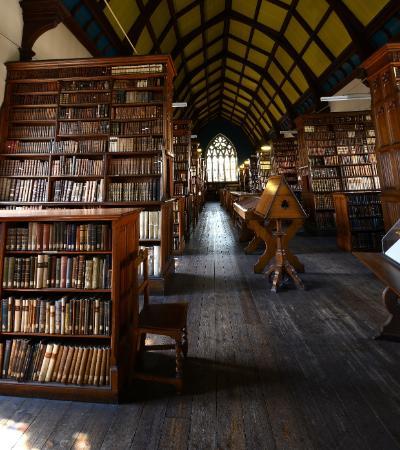 Home to the internationally significant archive and rare book collections managed by Durham University and owned by the Trustees of Ushaw College, Ushaw College was a Roman Catholic seminary that trained young men for the priesthood from 1808 until its closure in 2011.
The library encompasses 30,000 early printed books, incunabula, pamphlet material and printed ephemera, from the fifteenth to the twenty-first century. These include approximately 3,000 British sixteenth and seventeenth century items, a substantial amount of continental printing from across Europe, plus several Chinese, Turkish and Arabic texts.
The library is particularly rich in theological subjects, including:
Bibles and biblical studies
Roman Catholic liturgy
History of the Church and the Papacy
Devotional literature
Canon Law
Patristics
Religious controversy
In addition, there are large numbers of books on other subjects, such as Art, Mathematics, Medicine and Natural history, reflecting the college tradition of educating seminarians in the sacred and the secular.
Ushaw College Library holds significant archive collections, specialising in early modern Catholicism and the revival of the Catholic Church in Britain during the nineteenth century. These collections include letters, diaries and other manuscripts from some of the most important figures in the English Catholic Church, including St John Henry Newman, Cardinal Nicholas Wiseman, and Rev John Lingard. The college's institutional archive also offers a unique insight into the spiritual, social and cultural life of a 200-year-old Catholic seminary.
Ushaw College's own collections are complemented by other collections deposited with the college. These include:
The archive and library of the English College in Lisbon
Six northern English Catholic parish libraries
The early printed book library of Bishop Moriarty
The collections are currently in the process of being catalogued by University Library and Collections staff and can be consulted in our dedicated reading room.
Library and archive collections catalogue.
Information about Ushaw College.
For further enquiries on the collections or to book an appointment, please complete our enquiry form or telephone + 44 (0) 191 334 2977.