Coffeehouse politics in early 20th century Egypt
Alon Tam, with support from the University of Pennsylvania, used intelligence reports within the papers of Abbas Hilmi II, the last Khedive of Egypt, to trace the use of Cairo's coffeehouses in organizing nationalist and anti-government politics. Part of a forthcoming book project on the social and political history of Cairo's coffeehouses, Tam used these reports, alongside later British military intelligence reports from The National Archives, to illuminate how coffeehouses increasingly became an urban space for popular politics during the first decades of the 20th century.
See article on The National Archives blog for more detail on this research.
Creating wealth by recycling waste
In 2018, Dr Anna Reynolds used the Bamburgh Library collection to study the use of waste paper and parchment within early modern bindings. Early modern bindings often made use of earlier printed works, manuscripts or administrative documents to provide pastedowns and packaging within the binding. Speaking about the project, Anna (now at University of St Andrew's) said,
"To fully understand the material make up of early modern books, one needs to sit in a rare book library and examine the obscure corners and edges of the book - elements rarely digitised and available online."
Fragment of music for a motet in honour of St Peter, late 13th century (Add.MS.1950/Z/B5).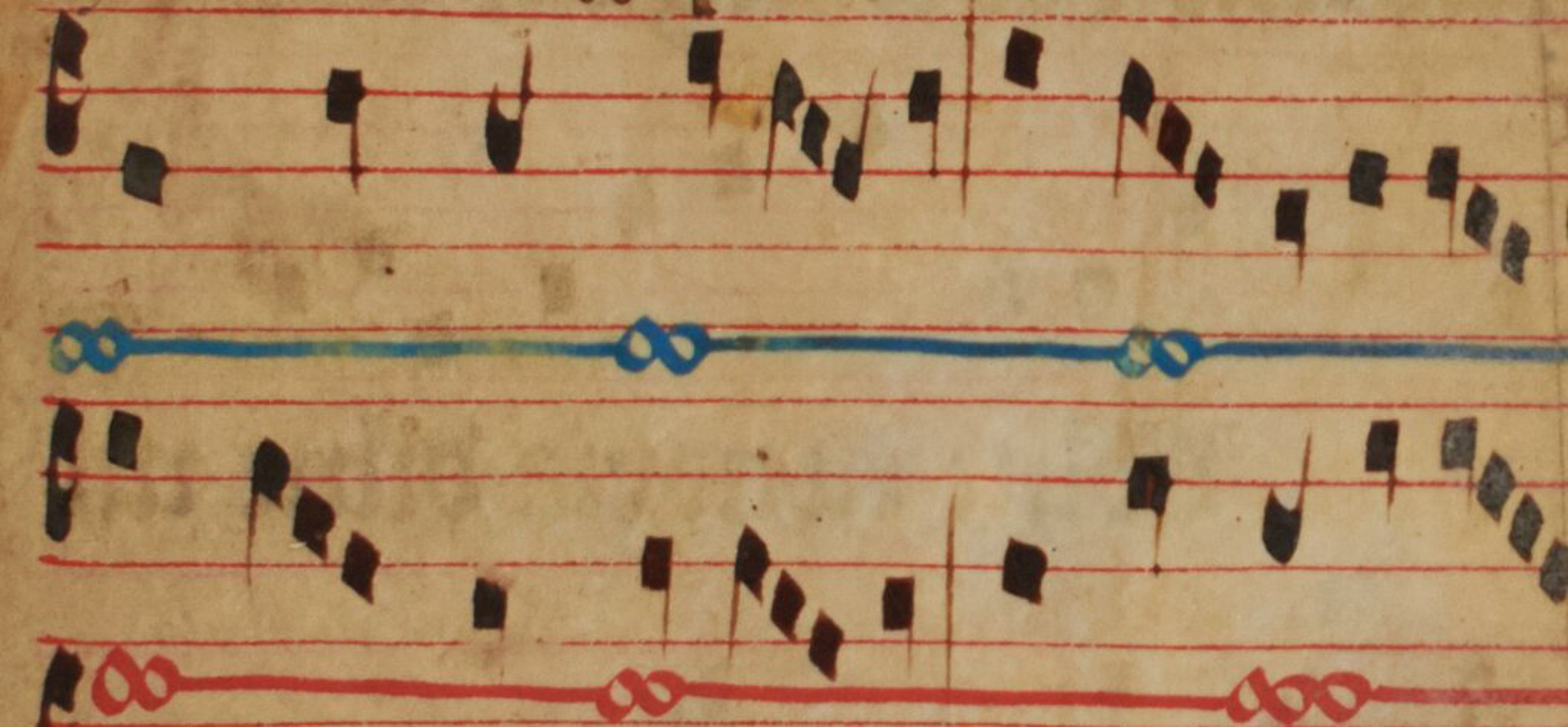 Early Buddhism in Nepal
Members of the Oriental Museum team regularly collaborate with Durham University's UNESCO Chair Archaeological Ethics and Practice in Cultural Heritage and Nepali colleagues on research-led projects focussed upon early Buddhist archaeology and the development of sustainable pilgrimage tourism in the Terai region of Nepal. In 2019, team members worked with Nepali colleagues to co-curate the inaugural galleries for a new museum at Tilaurakot/Kapilavastu (adjacent to the remains of the city where Buddha spent his early years). It is planned that this new attraction will help to underpin the developing tourism economy of the Terai and bring much-needed revenue into the region.
Later the same year, the team co-delivered an exhibition intended to increase international awareness of Nepal's Buddhist archaeological heritage at the world-famous in Shwedagon Pagoda in Yangon, Myanmar. The exhibition, which featured many images from the Oriental Museum's collection, was formally opened by HE the President of Nepal.
Installing the exhibition at the Shwedagon Pagoda, Myanmar.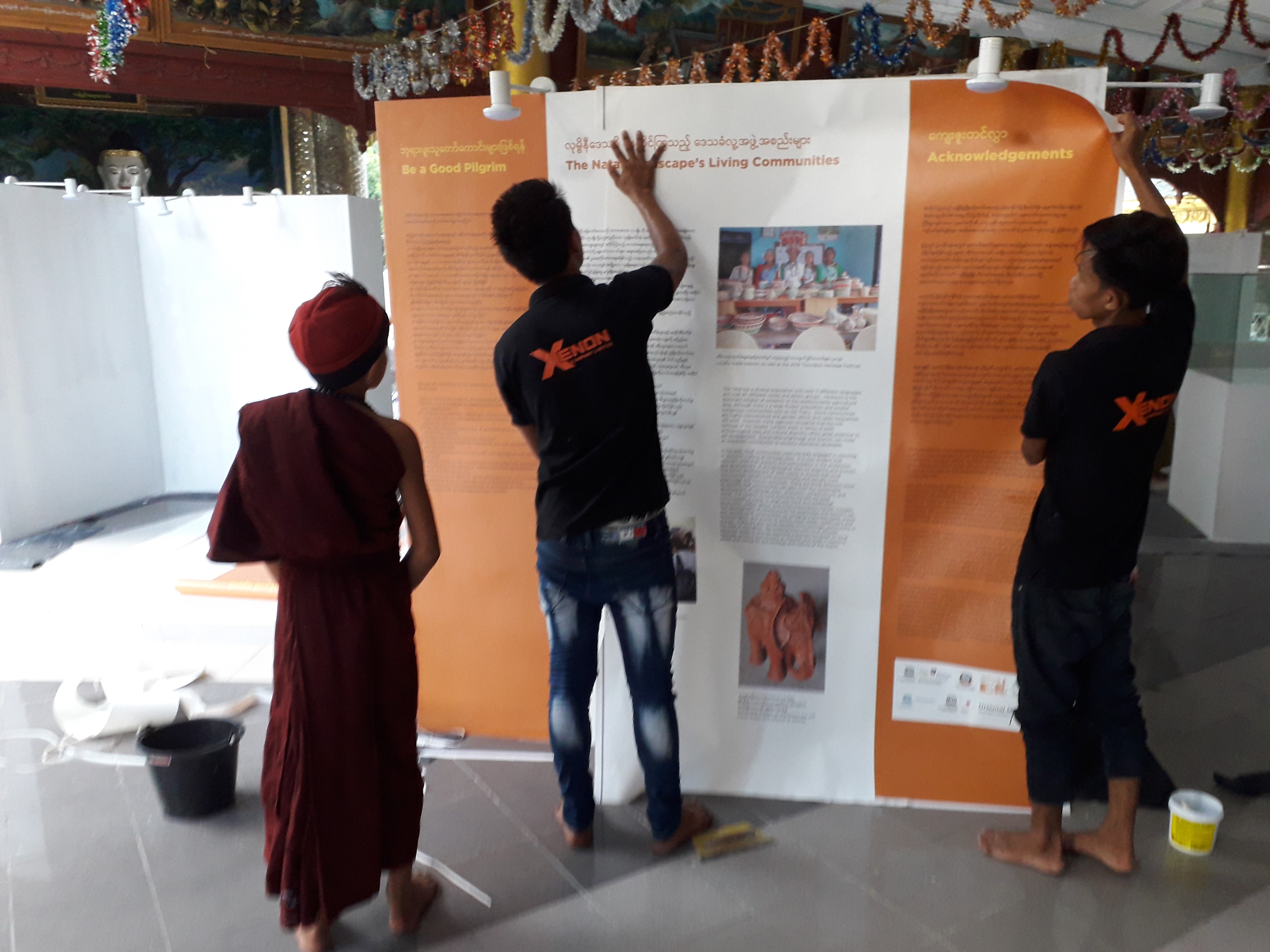 Local residents crowd into the newly opened Kapilavastu Museum.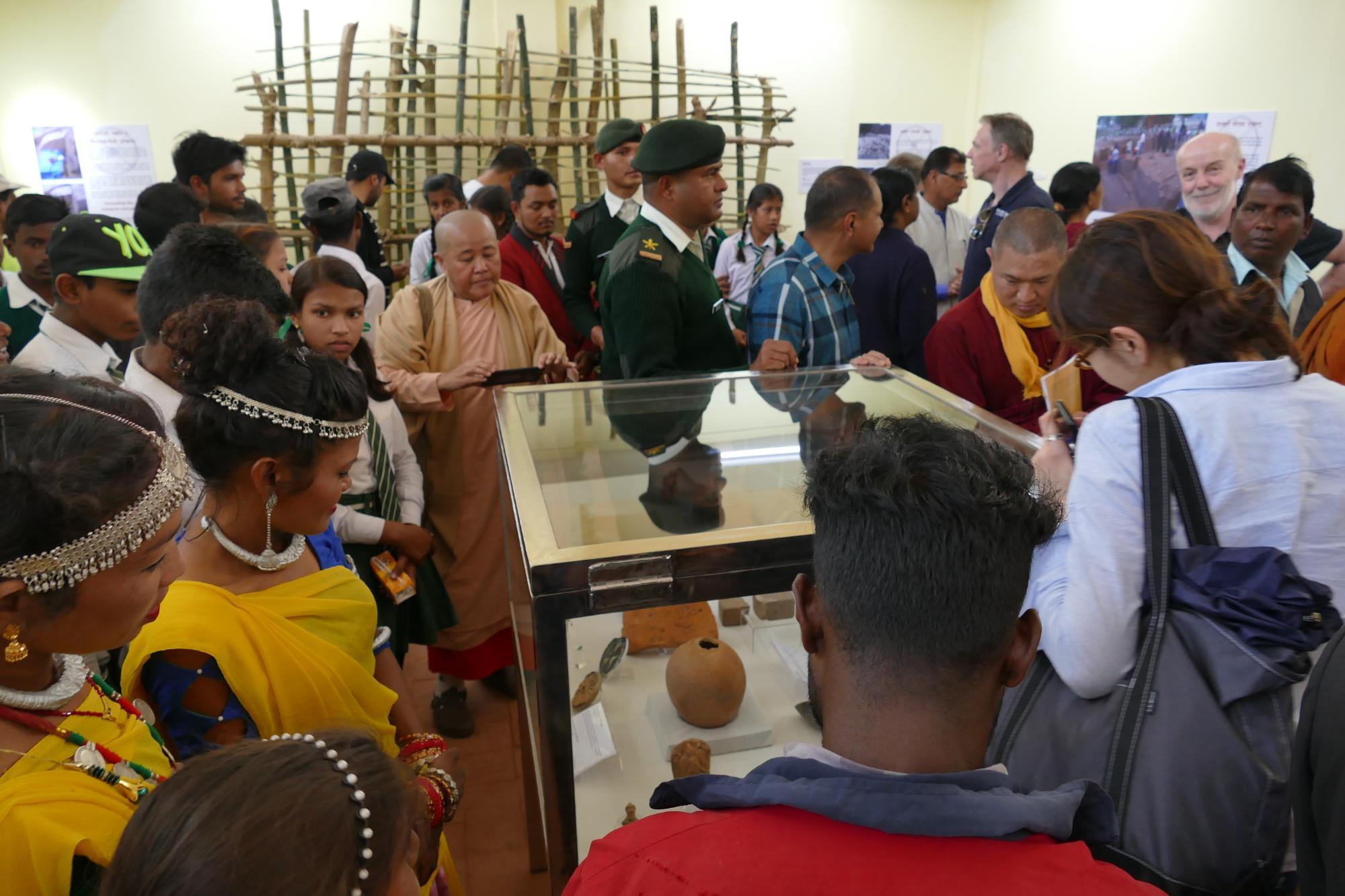 Preserving Pakistan's Archaeological Heritage
The Oriental Museum is host to the Marshall Collection of early photographic images of the archaeology and historic sites of South Asia. These rare images are crucial to the understanding of South Asia's archaeological heritage and members of the museum team have been working with Durham University's UNESCO Chair Archaeological Ethics and Practice in Cultural Heritage and academic and government partners in India and Pakistan to make these available as guides to the conservation and preservation of the region's built heritage.
A current project that has grown from this is a joint exhibition with the Pakistan Government. The bilingual exhibition, which will be hosted in Durham, Pakistan and online in 2021, will showcase how Durham University's collections are being used to guide the preservation of the UNESCO World Heritage Site of Taxila.
Dharmarajika stupa, Taxila in 1915-16.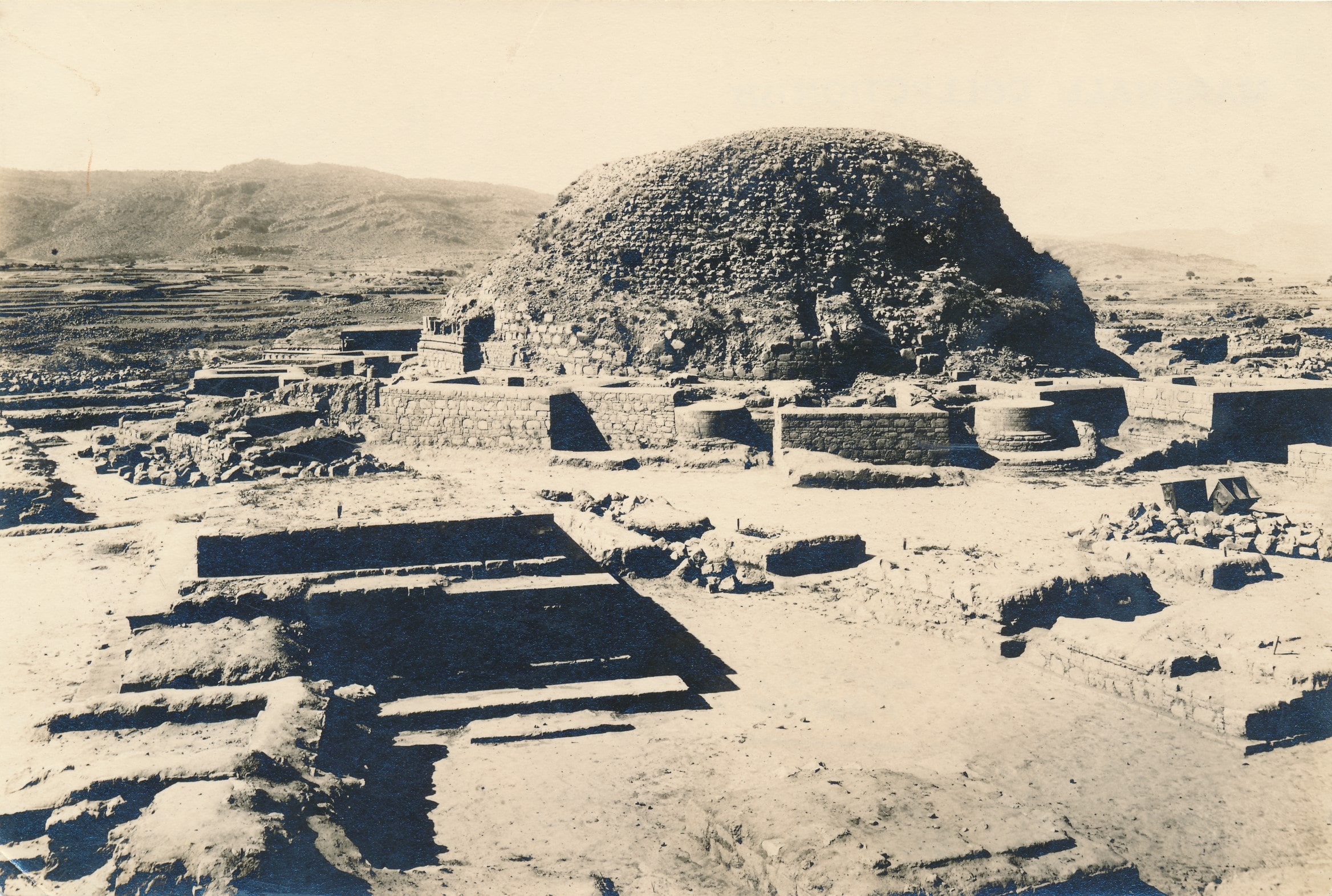 Re-creating a 20th century philosopher's messy desk
As well as being a novelist and philosopher, Iris Murdoch was one of the twentieth century's most dedicated letter-writers, spending up to 3 hours daily penning missives to friends. One among them was her lifelong friend Mary Midgley. Together with Philippa Foot and Elizabeth Anscombe, the two women are credited with revolutionizing moral philosophy in the 20th Century. A recreation of Murdoch's desk featured unpublished correspondence between the two women held at Palace Green Library, and formed part of the British Academy Summer Showcase in June 2019.
Iris Murdoch's writing desk, an exhibit at British Academy summer showcase 2019.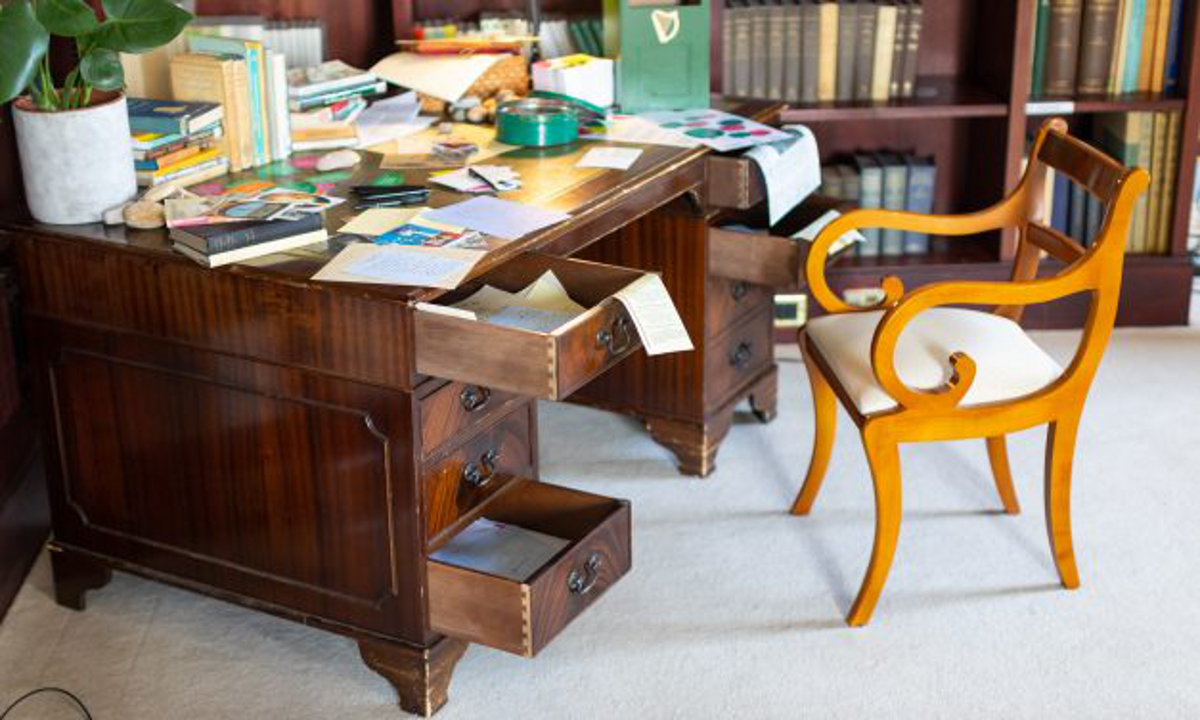 Using 18

th

century maps to establish 21

st

century rights
Community researchers on behalf of the British Horse Society have been using maps generated by the enclosure of common land in the 18th century to locate unregistered rights of way. A legislative change in 2000 requires these footpaths and bridleways to be formally registered by 2025 or lost to public use forever.
In March 2021, the Northern Echo reported that the County Council Highways Committee has decided to upgrade Watergate Lane near Crook to bridleway status, subject to government approval. This was partly on the strength of wording within a 1761 Enclosure Award held at Palace Green Library.
Extract from Enclosure map for Wolsingham Common, 1767 (DHC6/III/10).