Space Surveillance and Tracking
Space sustainability is an emerging and critical concern. It is essential to protect the space environment for future generations whilst also growing the capacity and capabilities of space applications. To achieve this continuous, complete and precise monitoring of the space environment is required. This information can improve and add confidence to satellite collision warnings for operators and national agencies, enabling better decision making, and directly inform and monitor national and international policy.
We are developing the instrumentation for a new global space monitoring network using 100-1000 sensors combined with sophisticated distributed big data analysis and machine vision techniques. We intend to develop two small optical devices, one for monitoring Low Earth Orbit (LEO) and another for Geosynchronous Earth Orbit (GEO) to provide space object astrometry at a precision and scale not currently possible. This is an important development given the rapid escalation of the number of objects in our local space environment.
The development will take advantage of the experience and capabilities of Durham University in optical instrumentation, astronomical data analysis and machine vision.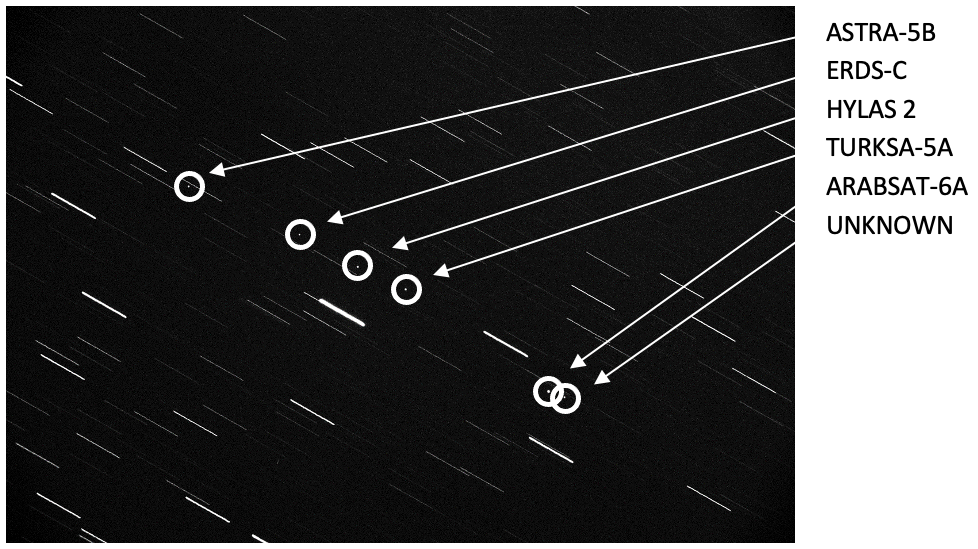 Example of GEO survey data from prototype sensor, from Masters project of Phineas Allen
Additionally we are exploiting our astronomical Adaptive Optics background to develop very high-precision follow-up capabilities.