Micro-optical instrumentation
The groups have been working in the area of using micro-optics for the life sciences for both clinical settings and in the life science laboratory. In the latter case the focus has been to use graded index optics (GRIN lenses) to image inside intact blood vessels to observe cell signalling. This has led to new understandings in the way this signalling is altered as the pressure in the vessel changes by linking the novel imaging, data processing approach linked to simple mathematical models of chemical diffusing and cell shape changes.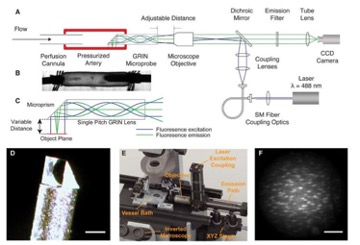 Vascular imaging system for viewing inside intact arteries.
Research is also taking place to undertake fluorescence lifetime imaging within the live human lung as part of the Proteus project led through Edinburgh University. This integrates novel coherent fibre bundles (Bath University) with new detectors (Single Photon Avalanche Detectors, SPAD arrays, Edinburgh University) with integrated fluorescent lifetime electronics and a compact and reliable beam scanning system (Durham and Edinburgh). The instrument was first used in a live human during the first few months of the Covid pandemic providing the first micron resolution images within the live lung.