Student news
Queen's Birthday Honours 2020
(13 October 2020)
On the announcement of the Queen's Birthday Honours List 2020, we would like to congratulate and celebrate the achievements of the following alumni and friends who are honourees in this year's list.
From supporting women to access education, to the protection of our natural world, to stellar lifetime achievements across business, society, and the arts - those individuals celebrated below represent the inspiration and leadership that characterises Durham alumni the world over.
We are inspired by their success and honoured by their affiliation with our institution.
Sir David Attenborough Honorary DSc, 1982 - GCMG For services to television broadcasting and to conservation
Sir David Attenborough received his honorary Doctor of Science (DSc) from Durham University in 1982 alongside operatic superstar, Dame Kiri Te Kanawa. He is an award-wining broadcaster, documentary and film maker, a highly-respected author, and lifelong, trailblazing advocate for the environment.
Mrs Eileen Bellett Education, Graduate Society, 1984 - BEM For services to the community in Osmotherley, North Yorkshire


Mr Peter Cardy Politics & Sociology, University College, 1968 - OBE For services to the community in Gosport, Hampshire


Mr Paul Chakravarti Applied Physics & Electronics, St Cuthbert's Society, 1986 - CMG For services to national security


Ms Miranda Curtis Spanish, St Cuthbert's Society, 1978 - CMG For services to gender equality globally


Spotlight: Miranda Curtis CMG

Following a high-profile career in global trade and telecommunications, Miranda became NED to Marks & Spencer and latterly the Foreign & Commonwealth Office. She is Deputy Chair of the Royal Shakespeare Company, a trustee of the Institute for Government, and Chair of CAMFED, an organisation on whose behalf she accepted her honour.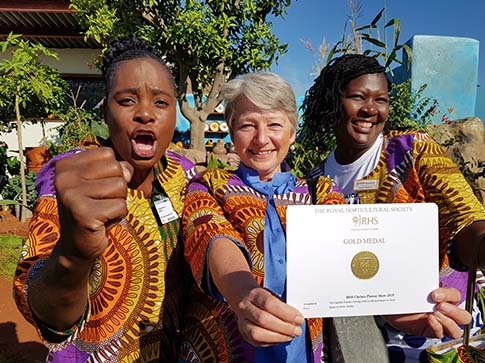 Mr Jonathan Douglas Theology, St Chad's College, 1991 - CBE For services to Education


Ms Rosemary Drinkwater Mathematics & Economics, St Mary's College, 1981 - OBE For services to Higher Education, Innovation and Enterprise in the West Midlands


Mrs Gabrielle Eirew Education, University College, 1992 - MBE For services to charities and the terminally ill


Sir Brendan Foster Advisor, Knighthood For charitable service in North East England


Mr Jeffrey Godfrey Law, University College, 1981 - CBE For services to Devolution and the Legislative Process in Wales


Mr Ian Hammond Software Engineering, Van Mildert College, 2005 - MBE For services to the NHS during the Covid-19 response


Ms Caroline Hoddinott Education (Secondary), Graduate Society, 1987 - OBE For services to Education


Mr Niall Mackenzie History, Collingwood College, 1986 - CBE For services to Business and Industry


Miss Kathryn McCloghrie Law, University College, 1995 - MBE For services to Business and the community in Cumbria during the Covid-19 response


Mr Simon 'Sam' Melluish Economics, College of St Hild & St Bede, 1986 - MBE For services to Young People and charity


Miss Julie Scurfield Community & Youth Work Studies, Graduate Society, 1990 - BEM For voluntary service to Girls' Football in Chester-le-Street, County Durham


Mr Simon Walls Theology, Hatfield College, 1989 - Queen's Police Medal


Mr Stephen Walthall Engineering Geology, Graduate Society, 1970 - MBE For voluntary service to Scouting in Heywood, Metropolitan Borough of Rochdale


Mrs Jane White French, St Mary's College, 1980 - OBE For services to Parliament


Mr Colin Wilkes Law, Grey College, 1982 - MBE For services to Business in North East England