Durham Castle
It is often said there is no finer venue in the North East for wedding receptions, banquets and other special occasions than Durham Castle. Situated in the heart of the City, the Castle, along with Durham's world famous Cathedral, forms part of a UNESCO World Heritage Site.
Our staff have a wealth of experience catering for the most prestigious events, ensuring that the quality of service will match the unrivalled setting. We can also offer a comfortable range of bed and breakfast accommodation within the Castle walls.
Contact Us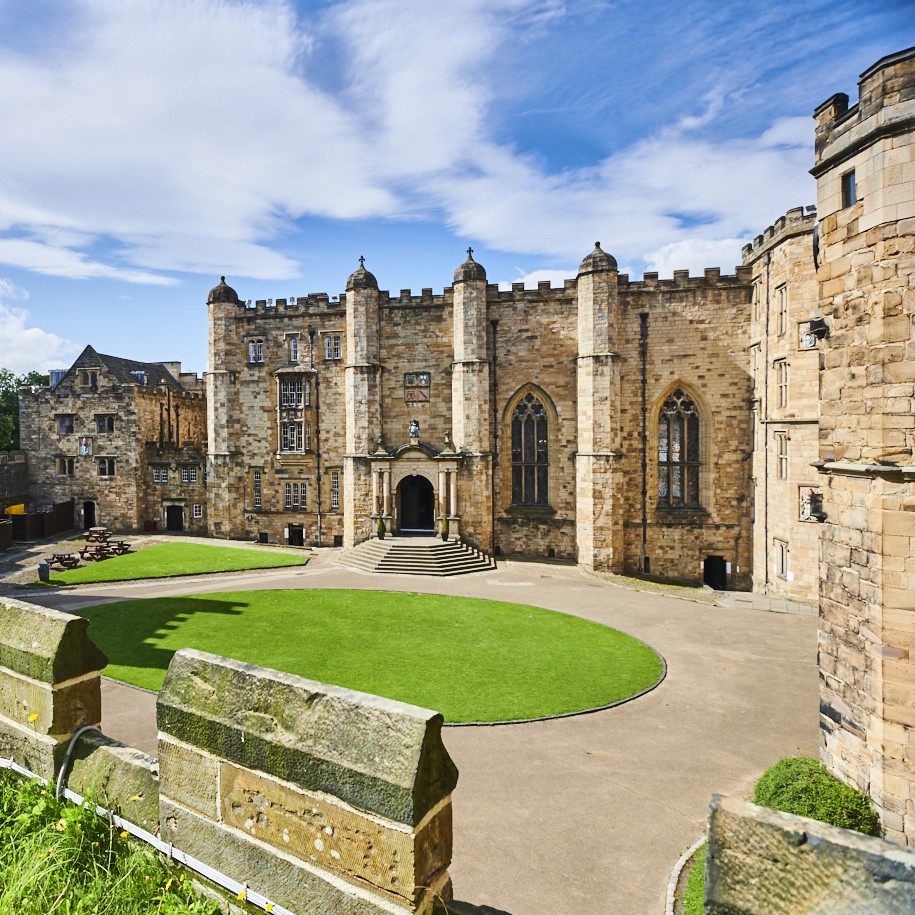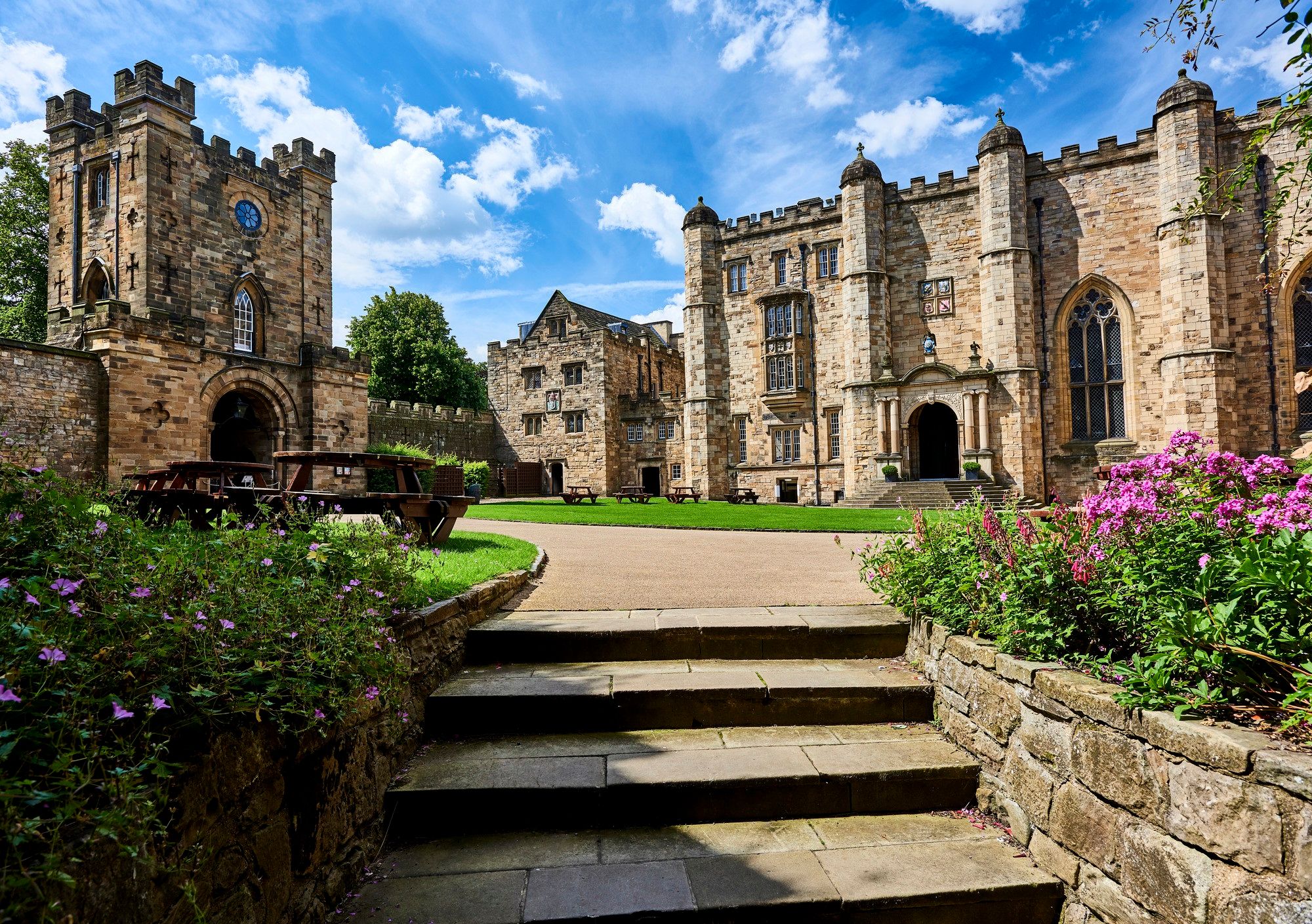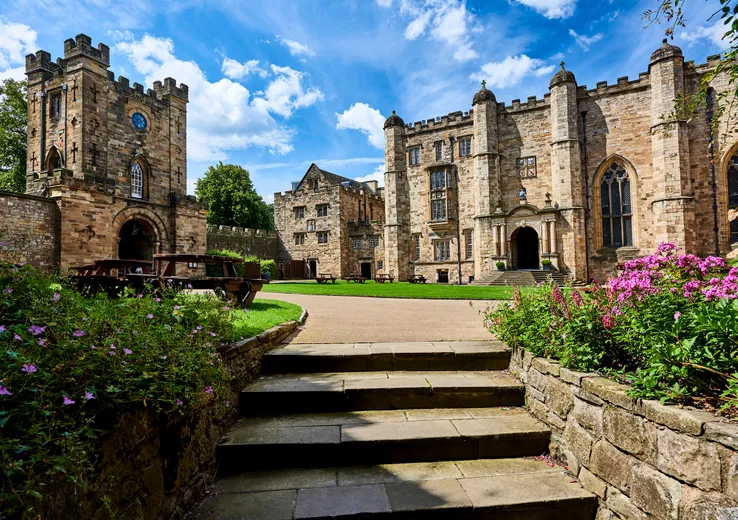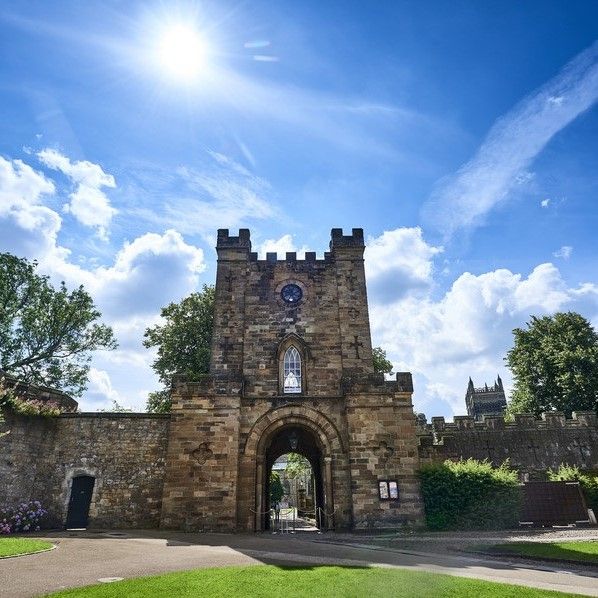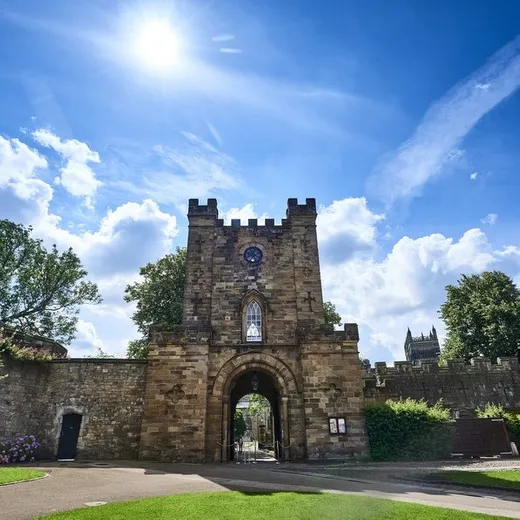 About Durham Castle
Visitors can view the Castle by taking a guided tour. The Castle is open for tours on afternoons during term-time. During vacation periods tours are available in the mornings, as well as some afternoons.
Should your event require resources and facilities in addition to those at the Castle, then other University venues that can be utilised. These include additional lecture rooms, large halls suitable for exhibitions and additional bedrooms, all situated within the City.
The present Castle began in 1072 as a simple defensive mound commissioned by William the Conqueror to defend the peninsula formed by the meander in the River Wear. Over the centuries, the Castle has been a residence of the Bishops of Durham who added to the buildings and altered them to suit the needs of the time.
The University of Durham was founded in 1832 by Bishop Van Mildert and the Dean and Chapter of the Cathedral. After Van Mildert's death in 1836 the Castle was handed over to the University and became University College in 1837, the oldest of the Durham Colleges. Early generations of students lived either in University House, now Cosin's Hall, or in the Castle Keep which was reconstructed in 1840.
The College is now an academic community within Durham University of around 700 undergraduate and 150 postgraduate students.

Banqueting and private dining
Durham Castle is one of the premier banqueting venues in the North East. The magnificent Great Hall can accommodate up to 200 guests for dinner and is available during University vacations. The more intimate Bishop's Dining Room can hold up to 40 and is available throughout the year.

Accommodation
Bed and Breakfast Accommodation
During University vacations it is possible to book bed and breakfast accommodation in Durham Castle. A wide variety of comfortable bedrooms are available, ranging from standard rooms with shared facilities to magnificent state rooms, which are also available within the University vacation.
Staying at Durham Castle is an unparalleled experience and, whilst unlike a hotel there are not some modern conveniences like TVs in your room or lifts in the buildings, it offers the unique opportunity to stay in part of a UNESCO World Heritage Site. It is the perfect base from which to explore Durham. Have your breakfast in the medieval Great Hall and then head out to explore the historic city. Breakfast is served from 8am to 10am Monday to Friday, and from 8am to 10.30am Saturday and Sunday. Guide and assistance dogs are welcome to stay, maximum one dog per room. However, the venue holds a policy that no other dogs can stay overnight.
Please note that as Durham Castle is located on a World Heritage Site, parking is not permitted. You can however drive up and drop off/collect your belongings and then move your car elsewhere, please do give your registration number to Reception however to prevent a parking charge. You can find details on parking in the city on the following link Durham City car parks - Durham County Council.
State Rooms
Durham Castle has two magnificent State Rooms which are available as accommodation throughout the year. To book the State Rooms please contact Durham Castle. For all other bedrooms please contact us.
Bishop's Suite
Situated in a part of the Castle built in the 13th century, the Bishop's Suite has a sitting room overlooking the River Wear, the walls of which are hung with 17th century tapestries and a four-poster bed dating from 1760.
| | |
| --- | --- |
| Occupancy | B&B Rate per night |
| Single or Double | £275.00 |
All rates include VAT and are valid until 30 September 2024.
Chaplain's Suite
The Chaplain's Suite comprises of a double bedroom with bathroom and sitting room. There is a double sofa bed in the sitting room for additional guests.
| | |
| --- | --- |
| Occupancy | B&B Rate Per Night |
| Single or Double | £220.00 |
All rates include VAT and are valid until 30 September 2024.
Castle Bedrooms
During University vacations there are 57 en suite and 27 standard (with shared bathrooms) bedrooms available for bed and breakfast accommodation.
An English Breakfast, served in the magnificent Great Hall, is included. Rooms include tea and coffee making facilities, radio & clock. Towels and toiletries are provided daily.
The Hall Stairs
Hall Stairs rooms are conveniently located next to the Great Hall and include 1 single, 2 small double, 3 double, 2 twin and 1 triple en suite bedrooms.
The Keep and Junction
These rooms include 6 single, 8 double, 3 small double and 11 twin en suite bedrooms as well as 15 single standard bedrooms (with shared bathrooms). Please note as some of the rooms are in the Castle Keep they have over 100 steps to reach them.
The Garden Stairs (Summer vacation only)
Some of these rooms overlook the gardens and cathedral; there are 2 twin en suite bedrooms, and 2 twin standard bedrooms with shared bathroom facilities, which are in part of the Castle which dates from the Sixteenth Century.
Owengate (Summer vacation only)
Owengate is situated just outside the Castle walls, but within the World Heritage Site next to Palace Green. There are 2 small double en suite, 4 double en suite, 4 single en suite, 5 twin en suite, and 3 twin/double en suite. There are also 7 single standard bedrooms and 1 twin standard bedroom with shared bathroom facilities.
Standard Bed & Breakfast Rates
| | |
| --- | --- |
| Bedroom Type | B&B Rate Per Room |
| Single Standard | £50.00 |
| Single En Suite | £80.00 |
| Standard Twin/Double | £85.00 |
| Twin/Double En Suite | £95.00 to £115.00 |
All rates include VAT and are valid until 30th September 2024.
For groups of over 10 please call Event Durham on 0800 28 99 70 or email us.
Other Information
Due to the nature of Durham Castle it is used as a venue for a variety of events and functions. As such, there may be some noise and minor disruption during your stay, our staff will endeavour to control this where possible.
Please note that Durham Cathedral is located next to Durham Castle and as a result guests should be aware the Cathedral bells ring prior to services on a Sunday and between 18.30 and 20.30 each Thursday evening.
Group Accommodation
During University vacations Durham Castle's accommodation within the heart of the city provides the perfect base from which to explore historic Durham City and the wider region.
The College has 57 en suite bedrooms and 15 standard rooms within the Castle walls as well as 18 en suite and 12 standard bedrooms just outside, ideally suited for group bookings.
When enquiring please ask about our group discounts.

Weddings
Durham Castle is one of the premier venues for wedding receptions in the North East. The magnificent Great Hall, which dates from 1284, can take wedding breakfasts of up to 200, with guests able to enjoy an arrival drinks reception in the Courtyard of the Castle or the Tunstall Gallery. For smaller occasions the more intimate Bishop's Dining Room can take up to 40.
The Castle has two Suites, the Bishop's Suite and the Chaplain's Suite, as well as en suite and standard bedrooms which can be available for you and your guests
The staff at Durham Castle would like to help you prepare for your special day and will do all they can to ensure you enjoy it to the full. Whatever style of wedding you are thinking of we would be happy to discuss it with you.
Civil Ceremonies
Civil ceremonies are available in the Castle, which are non-religious but legally binding, and can be offered to all couples.
Outdoor ceremonies are available in Fellows Garden for a maximum of 100 guests. White outdoor chairs are provided. If the weather is not suitable for an outdoor ceremony, the event will be moved inside to the Norman Gallery.
Indoor ceremonies take place in the Norman Gallery for a maximum of 120 guests. Chairs are provided, with white covers.
Smaller, more intimate, indoor ceremonies can be accommodated in the Bishop's Dining Room for a maximum of 40 guests, or the Bishop Suite for up to 20 guests. Chairs with white covers are provided.
If you have any questions regarding weddings at Durham Castle, or at any of our other Colleges, please contact us through our enquiry form or by calling +44 (0) 800 28 99 70 or +44 (0) 191 334 2887.
Durham Registrars conduct the service which must be booked directly with them by the couple as legal paperwork will need to be completed, and timeslots and dates checked for availability. Contact details are Aykley Heads House Register Office, Aykley Heads, Durham City DH1 5TS, Tel +44 (0) 3000 266 000. Please check availability at Durham Castle before contacting the Registrars. Fees for the Registrars are paid direct to them.
Please note that hire charges will apply for use of the ceremony spaces within Durham Castle.
Wedding Enquiry Form
If you have any questions regarding weddings at Durham Castle, or at any of our other Colleges, please contact us through the enquiry form below or by calling 0800 28 99 70 or +44 (0) 191 334 2887.

Meetings
Durham Castle is the perfect venue to hold a meeting within the heart of Durham City. The College can accommodate presentations, meetings and seminars for up to 50 delegates in the Bishop's Dining Room.
Capacity Chart
| | | | |
| --- | --- | --- | --- |
| Meeting Room | Theatre Style (no equipment) | Theatre Style | Board Room |
| Bishop's Dining Room | 50 | 40 | 25 |

Guest Information
Accessibility
Due to the nature and layout of the Castle, the building and bedrooms are inaccessible to wheelchair users. The tour route and access to bedrooms involves many steps and staircases, some of which are uneven. If you are interested in staying overnight in the Castle please email our Accommodation Co-ordinator for advice on suitable rooms.
Visitors and guests with mobility problems are advised to contact us well in advance so that we can provide the best advice and assistance and where possible reserve a parking space.
Travel Information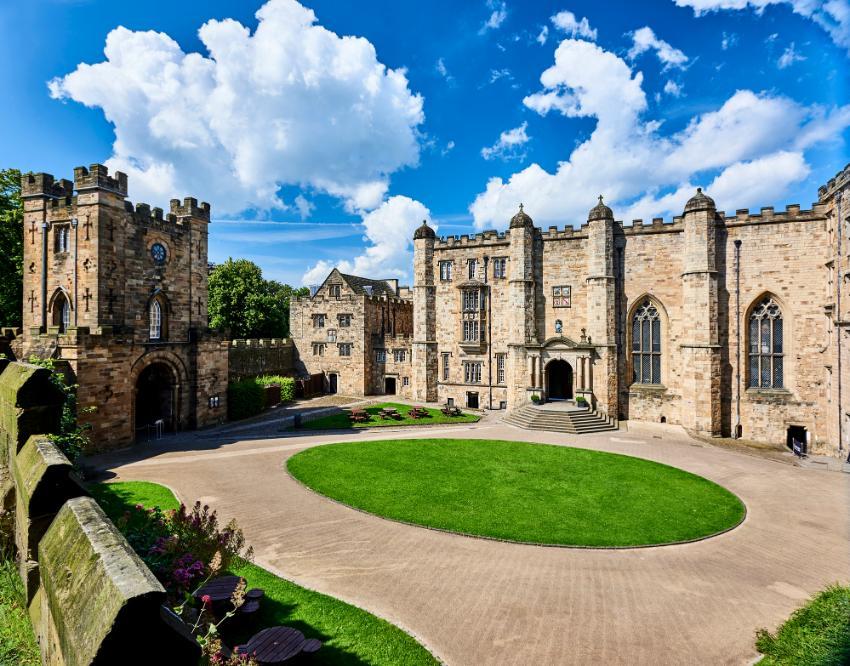 By foot
The Castle is a 15 to 20 minute walk, most of which is uphill, from both the train and bus station.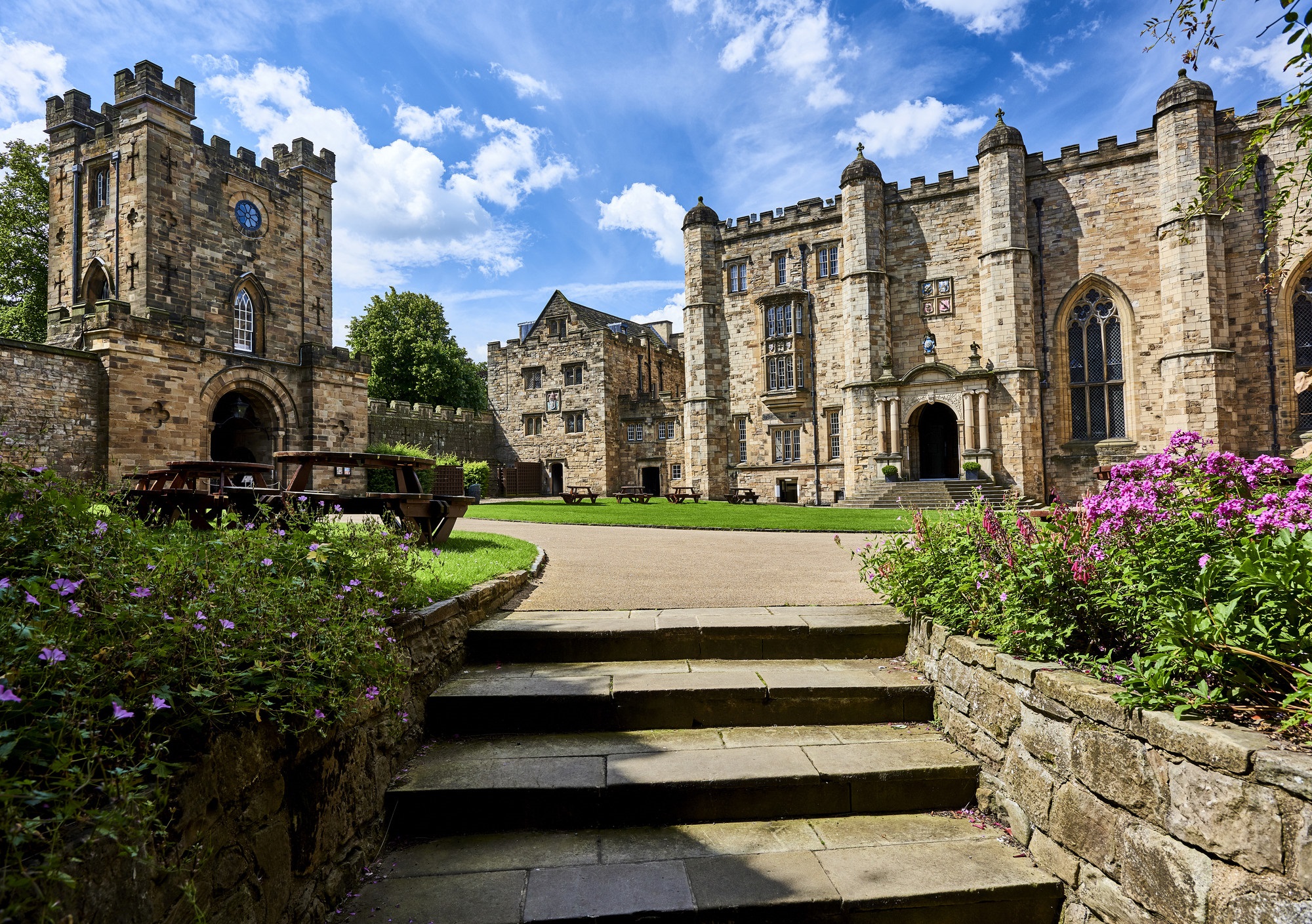 By train
The train station is 10 minutes away by car and accessible taxis are usually available.
By car
Parking is severely restricted on the World Heritage Site. Bed and breakfast guests are welcome to drive into The Courtyard, drop off luggage and then move their vehicle to one of the local parking areas at Prince Bishop's Shopping Centre or The Sands. The entrance to the Castle (the Barbican) is a single track cobbled road with a restricted entrance through the Gatehouse to the Courtyard. The Barbican is approximately 4.2 metres wide and the Gatehouse 2.5 metres wide by 2.6 metres high.
To drive to the College you have to enter the city's congestion charge zone for which there is a £2 charge, this Charge needs to be paid by 6pm the same day by calling the Parking Shop on 0191 3846633. For more information, visit the Durham County Council website.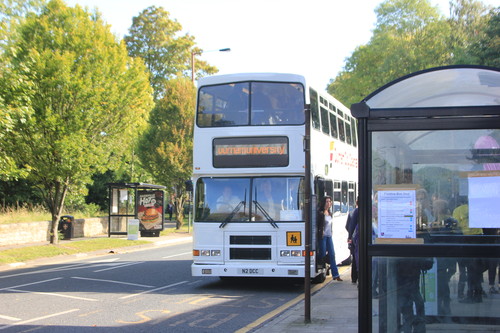 By bus
The Cathedral Bus Service (approximately every 10 minutes) is available for transport between the train and bus stations and Palace Green Library (right outside the Castle). The buses are easy access and the fare is currently £1 and covers travel all day on the day of purchase.
Telephone:
The Porters Lodge: +44 (0) 191 334 3800
Guided Tours: +44 (0) 191 334 2932
Event Booking: +44 (0) 800 28 99 70
Get in Touch
Contact us if you have any questions.
University College
The Castle
Palace Green
Durham
DH1 3RW