Staff
Academic Staff
Dr Samuel Thomas
Telephone: +44 (0) 191 33 46577
Room number: Room 258, Elvet Riverside 2
(email at samuel.thomas@durham.ac.uk)
Biography & Research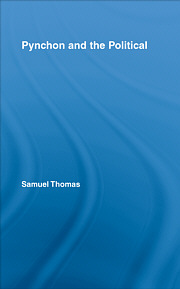 I am originally from the Southampton area. I have a BA in English with American & Postcolonial Studies from the University of Exeter, an MA in Critical Theory from the University of Sussex and a PhD from the same institution (where I was also employed as a tutor for a number of years).
From my doctorate to the present, I have worked on the American novelist Thomas Pynchon. My first book, entitled Pynchon and the Political, was published by Routledge in 2007 (made available in paperback as of 2012). This project, part of the 'Studies in Major Literary Authors' series, explores the relationship between political commitment and postmodern play in Pynchon's extraordinary and demanding fiction.
My more recent research has a distinctly trans-atlantic and trans-hemispheric bent, exploring Pynchon's engagement with national/regional cultures beyond the borders of the USA. This phase of my career includes articles on the representation of the Balkans in Against the Day and on Argentine cultural politics in Gravity's Rainbow. The latter project involved some unique archival sleuthing in Buenos Aires, ably assisted by the translator Daniela Vazquez Kalf. It sheds light on Pynchon's fascination with Argentina and identifies some of his key source materials. My interest in Pynchon continues unabated with work-in-progress on Bleeding Edge (I am investigating the narrative and contextual role of his allusions to US foreign policy in Latin America).
In August 2013, I organised 'International Pynchon Week' here in Durham, a 4-day conference that featured close to 50 speakers from around the world. I have also spoken about Pynchon on CBC's 'Sunday Edition'. You can listen here:
https://readdurhamenglish.wordpress.com/2013/12/09/new-podcast-thomas-pynchons-bleeding-edge/
In 2015, I introduced a special screening of Paul Thomas Anderson's film version of Inherent Vice at the Tyneside Cinema, Newcastle.
Beyond Pynchon, I have also published scholarship on the depiction of terrorism and political violence in contemporary fiction and film. These pieces cover novelists and filmmakers ranging from John Updike to Hany Abu-Assad and Olivier Assayas.
I am currently in the process of developing a large new project that is provisionally called Blood & Soil: Regionalism and Contemporary US Crime Narrative. This research examines issues such as postindustrial decline, 'white trash' identity, border politics, environmental toxicity, and labour history in a selection of regional crime novels, television shows, and films. With this new side of my work in mind, I was consulted by the Detroit Free Press for a piece on adaptating the novels of Elmore Leonard and I have also interviewed Graham Yost, producer of the FX series Justified.
Other research interests that I plan to take forward include: the relationship between contemporary fiction and underground music (especially metal and punk); the American West in the fiction of Percival Everett (focusing on water and water rights).
I have presented my research at various UK universities (Sunderland, Sussex, Brighton, and Westminster), as well as internationally (Buenos Aires, Valletta, Munich, and Belgrade).
I am a member of the Centre for Modern Conflicts and Cultures in Durham, the Captivating Criminality Network, the Percival Everett Society, and the International Society for Metal Music Studies.
Teaching, Supervision & Other Roles
Office Hours: Usually Fridays 11-12. See the sign-up sheet on my door.
My lecturing is mostly concentrated on the American Fiction and Literary Theory modules. I also convene a special topic called Fictions of Terrorism (running for the last time in 17/18) and have recently introduced a new Masters option on US Crime Narrative (replacing a long-standing module devoted to Pynchon). For the past few years, I have convened and helped to restructure the Department's Level 3 Dissertation module.
In 2017, I won the DSU's annual award for 'Outstanding Academic in the Arts and Humanities', for which I am very grateful.
I have experience of supervising a number of PhDs. My previous doctoral students have completed successful projects on topics such as: Pynchon and theology; sprituality and landscape in Pynchon's Californian trilogy; the Faust myth in Pynchon and Gaddis; the US Presidency in Pynchon, Roth, and McCarthy.
From 2010 to 2017, I was the international co-ordinator for English Studies. During this time, I was responsible for managing our Erasmus and Overseas Exchange partnerships and I implemented the Department's first degree programme to include a full year abroad.
Research Groups
American Studies
Critical Theory
Research Interests
Thomas Pynchon
Contemporary US Crime Narrative
The Relationship between 'Literary' and 'Genre' Writing
Argentina and Anglo-American Fiction
Political Violence / Terrorism in Fiction and Film
Percival Everett
Elmore Leonard
Contemporary Fiction and Underground Music
Publications
Authored book
Book review
Journal Article
Newspaper/Magazine Article
Support Staff