Staff
Academic Staff
Dr Angela Woods
Telephone: +44 (0) 191 33 48145
Room number: C120, Caedmon Building
Room number: C120, Caedmon Building, Leazes Road, Durham, DH1 1SZ
(email at angela.woods@durham.ac.uk)
Biography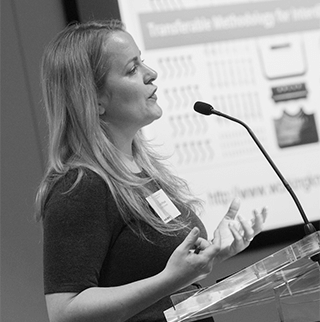 I am an interdisciplinary medical humanities researcher working at the intersection of cultural theory, philosophy and literary studies. I am Deputy Director of Durham's Institute for Medical Humanities and Co-Director of Hearing the Voice, an eight-year interdisciplinary study of voice-hearing currently funded by a Wellcome Trust Humanities and Social Sciences Collaborative Award.
I completed my PhD in Literary and Cultural Studies at the University of Melbourne, where I also lectured in Postmodernism and was the lead curriculum designer of Australia's first interdisciplinary coursework degree for doctoral students. I joined Durham University's Centre for Medical Humanities in 2010 and until August 2017 was based in the School of Medicine Pharmacy and Health.
My first book, The Sublime Object of Psychiatry: Schizophrenia in Clinical and Cultural Theory, was published in 2011, and my current research interests include the interplay between theoretical and subjective accounts of unusual experience and new modes of 'doing interdisciplinarity', especially within the critical medical humanities. I am founding editor of The Polyphony and a Series Editor for Bloomsbury's Critical Interventions in the Medical and Health Humanities book series. I have previously served as Associate Editor of the BMJ Medical Humanities Journal, and as academic lead for the world's first major exhibition on voice-hearing, Hearing Voices: Suffering, Inspiration and the Everyday.
Research Interests
Critical Medical Humanities
Voice-Hearing - Phenomenology
Voice-Hearing - Hermeneutics
Narrative approaches to mental health
Interdisciplinary Research & Practice
Selected Publications
Authored book
Book review
Woods, A. (2014). Book Review. Medicine, Health and the Arts: Approaches to the Medical Humanities. Edited by Victoria Bates, Alan Bleakley, Sam Goodman. Published by Routledge, 2013, hardback, 304 pages. ISBN 978-0415644310, £84.99. Medical Humanities 40(2): 146-148.
Woods, A. (2013). Book review: Matti Hyvarinen, Lars-Christer Hyden, Maria Saarenheimo and Maria Tamboukou, Beyond narrative coherence: an introduction. Qualitative research 13(2): 246-248.
Chapter in book
Whitehead, Anne & Woods, Angela (2016). Introduction. In The Edinburgh Companion to the Critical Medical Humanities. Whitehead, Anne, Woods, Angela, Atkinson, Sarah, Macnaughton, Jane & Richards, Jennifer Edinburgh: Edinburgh University Press. 1-31.
Woods, A. (2013). Beyond the Wounded Storyteller: Rethinking Narrativity, Illness and Embodied Self-Experience. In Health, Illness and Disease: Philosophical Essays. Carel, H. & Cooper, R. Newcastle.: Acumen. 113-128.
Woods, A. (2012). Mathematics <> Masculinity <>Madness. In Madness in Context: Historical, Poetic and Artistic Narratives. Araoz, G. Oxford.: Interdisciplinary Press.
Edited book
Edited Journal
Journal Article
Support Staff