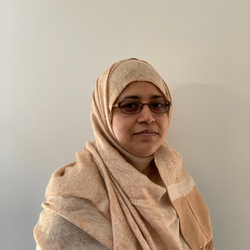 Meet Dr Farzana Chowdhury
, Assistant Professor of Entrepreneurship at Durham University Business School
Farzana holds a PhD from Indiana University and a master's degree from Indiana University in Comparative and International Affairs, Non-profit Management and Public Policy, and a Bachelor of Science in Corporate Finance from Ball State University in Muncie, Indiana.
Her research areas include entrepreneurship, innovation, decision-making, and emerging market strategy. Farzana's research focuses on how entrepreneurs (female entrepreneurs, social entrepreneurs, and solo entrepreneurs) make decisions in different contexts, in developed and emerging countries.
Where did it all start?
My interest in my research grew out of my experience working as an accountant in a multinational corporation. I work on topics at the intersection of organisations, gender, and decision-making, focusing on entrepreneurship in the developed, emerging, and developing market contexts. I am interested in how the environment influences people's decisions about entering the labour market vs. engaging in different types of entrepreneurship (social, informal, public entrepreneurship) and their ethical behaviour. When I think about the organisation, I think about private organisations (focusing on small and knowledge-intensive firms) and public organisations (focusing on government organisation-profits).
Environmental aspects include multiple aspects such as corruption, access to digital resources, and other resources. Another aspect of my research entails how the environment influences female entrepreneurs' decisions to undertake different types of entrepreneurial activity. The variety of firm outcomes I study includes productivity (innovation) and the kind of labour outcomes. I consider including entrepreneurial engagement vs. traditional labour market entry and mental health.
Tell us about your current research
My current projects involve how different support programmes (accelerators, incubators) affect new ventures and people's moral motivation behind social entrepreneurship. The research questions I am currently working on include how entrepreneurs' management of their resources from participating in the accelerator program influences ventures' outcomes and performance, how career orientation of workers influences the decision regarding labour market outcomes, and how entrepreneurial engagement and subsequent venture growth process affect entrepreneurs' mental health.