Overview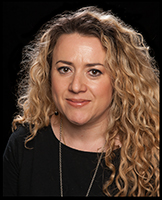 Biography
Affiliations
Gemmological Association of Great Britain
Scottish Gemmological Association
Acredited Gemologists Association
Sarah Caldwell Steele has had a love affair with Whitby jet since the age of seven. Reinforcing 40 years of commercial experience of working jet as a lapidary product, she graduated from Durham with a BSc in Geology in1992. She was awarded Fellowship of the Gemmological Association of Great Britain in 2013, and subsequently Diamond Fellowship in 2015. Her gemmological prowess lies in the identification of black gem materials including natural and semi-synthetic biopolymers. Sarah is widely considered the world's leading authority on the jet species of gemstones.
In 2019 she returned to Durham University as a PhD candidate. Her multidisciplinary and multiperiod PhD thesis focuses on the gemmological classification, identification and interpretation of black artefacts within the archaeological record, focusing in particularly on the Jet Group. The project aims to establish a new nomenclature system to decribe jet and jet-like materials and to provide a methodology for the identification of carbonaceous artefacts in the archaeological record drawing on techniques employed by the contemporary indigenous lapidary practitioners of Europe, Asia and the Americas.
Invited Talks
The Acredited Gemologists Association, Tucson, Arizona, 2023
The Society of Historical Archaeology Conference, Lisbon, 2023
The Hard Rock Summit, Denver, 2022
Jorvik Viking Festival, York, 2020
American Gem Traders Association, Tucson 2019
The Geological Society of America, Phoenix 2019
Gemmological Institute of America, San Francisco Chapter 2019
European Plastic Heritage Consortium, Lisbon, 2019
Society of Jewellery Historians, London 2019
Folk Horror Revival, Whitby 2019
Accredited Gemologist Association Conference workshop, Tucson 2018
The Peabody Museum, University of Yale 2018
The Canadian Gemmological Association Conference, Vancouver 2018
Gemological Institute of America Conclave, poster Carlsbad 2018
Jurassic Coast Symposium, Yorkshire Museum, 2017
Gem World Conference, Chicago, poster 2017
Gemmological Association of Great Britain Conference workshop, London 2017
Whitby Literary and Philosophical Society, Whitby 2017
Geologists Association Student Symposium, London 2017
Research Interests
My research interests focus on archaeogemmology, essentially establishing the correct gemmological species of artefacts within the archaeological record with the aim to determin country of origin for those gem materials encountered. Whereas my primary expertise is that of black stone identifiction, as an acredited gemmologist I am delighted to work on coloured stones if the opportunity arises!