Overview
Dr Sam Thomas
Associate Professor
--- Affiliations

| Affiliation | Room number | Telephone |
| --- | --- | --- |
| Associate Professor in the Department of English Studies | Room 258, Elvet Riverside 2 | +44 (0) 191 33 46577 |
Biography
Biography & Research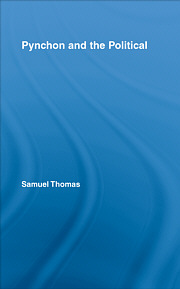 I am originally from the Southampton area. I have a BA in American & Postcolonial Studies from the University of Exeter, an MA in Critical Theory from the University of Sussex, and a PhD from the same institution (where I was also employed as a tutor for a number of years).
My research is primarily focused on contemporary US literature and culture. It can be divided into the following broad areas: (i) the politics of genre; (ii) resistance, crime, and political violence; (iii) popular and underground music (especially metal music); (iv) 21st century television; (v) transnational and regional approaches to US culture.
The most significant through-line here is my work on the novelist Thomas Pynchon. Pynchon and the Political, my first book, was published by Routledge in 2007. This project is part of the 'Studies in Major Literary Authors' series and explores the relationship between political commitment and postmodern play in Pynchon's extraordinary and demanding fiction.
My engagement with Pynchon is career-spanning and also includes long articles on the representation of the Balkans in Against the Day, on Argentine literature and politics in Gravity's Rainbow (featuring some unique archival discoveries), and on (un)popular music in Bleeding Edge.
In August 2013, I organised 'International Pynchon Week' in Durham, a 4-day conference with speakers from around the world, and I have spoken about Pynchon on CBC's 'Sunday Edition'.
Beyond Pynchon, I have published on the subject of terrorism in fiction and cinema (including the work of filmmakers such as Hany Abu-Assad and Olivier Assayas) and I recently co-edited a 'Contemporaries' essay cluster for Post45 on the 'New Literary Television'.
I am currently developing a major project on metal music and modern American literature for Intellect Books, provisionally entitled Feels Like Hell. This is developing in tandem with a variety of shorter pieces and engagement activities focused on metal music and culture.

I am a member of the Centre for Modern Conflicts and Cultures in Durham and the International Society for Metal Music Studies.
Teaching, Supervision & Other Roles
Office Hours: Updated monthly. See the sign-up sheet on my door.
My lecturing is usually concentrated on the American Fiction and Postcolonial & World Literatures modules. In academic year 19/20, I launched a new Level 2 seminar module called 'Contemporary US Fiction & the Question of Genre' (having previously run the special topic 'Fictions of Terrorism' for a sustained period). My MA track record includes an interdisciplinary class on American Crime Narratives and a single-author module devoted to Pynchon. I also helped to redesign the Department's Level 3 Dissertation and convened the module between 2015-2020.
In 2017, I won the DSU's annual award for 'Outstanding Academic in the Arts and Humanities', for which I am very grateful.
I am an experienced PhD supervisor. Previous research students have completed various Pynchon-related projects alongside doctorates on subjects ranging from post 9/11 genre cinema to conflict in the musico-literary novel. I am currently supervising PhDs on topics including agriculture and the American Gothic, torture in the contemporary novel, and crime fiction and ecology.
From 2010 to 2017, I was the international co-ordinator for English Studies. During this time, I was responsible for managing our Erasmus and Overseas Exchange partnerships and I implemented the Department's first degree programme to include a full year abroad.
Research interests
Thomas Pynchon
Metal Music
Music in the Contemporary Novel
The Cultural Politics of Genre
Contemporary TV
Political Violence / Terrorism in Fiction and Film