Overview
Professor Mark Sandy
Professor
---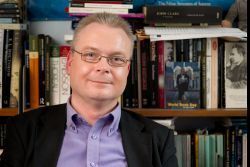 Biography
My research interests are in Romanticism, especially the poetry and poetics of the period. I completed a monograph on Poetics of Self and Form in Keats and Shelley (Ashgate, 2005) and a further book-length study of Romanticism, Memory, and Mourning (Ashgate, 2013). I have started to write a complementary study of Romantic and Victorian Spectral Presences: From Wordsworth to the Brownings. My interests in the Romantics extend to the imaginative and cultural legacies that Romanticism confers to the literary and cultural imagination of the late nineteenth century and beyond. I co-edited a critical collection of essays on Romantic Echoes in the Victorian Era (Ashgate, 2008) and edited a volume on Romantic Presences in the Twentieth Century (Ashgate, 2012). My other co-edited collections, including Venice and the Cultural Imagination (Pickering & Chatto, 2012) and The Persistence of Beauty: Victorians to the Moderns (Pickering & Chatto, 2015), explore further the complexities of Romanticism's imaginative and cultural afterlives. My co-edited collection, Decadent Romanticism 1780-1914 (Ashgate, 2015), addresses more fully these concerns, touched upon elsewhere in my research, about the cultural and imaginative reactions (positive and negative) in the late nineteenth and early twentieth centuries to the Romantics. As part of my current research on spectral presences in Romantic and Victorian poetics, I have also recently co-edited a collection on Ghostly Encounters: Cultural and Imaginary Representations of the Spectral from the Nineteenth Century to the Present (Routledge, 2021).
My additional research interests in critical theory and twentieth-century British and American Literature (including Jewish American Literature of the post-war era) are brought together in discrete, but inter-related, ways in my recent third-book length study of Transatlantic Transformations of Romanticism: Aesthetics, Subjectivity, and the Environment (Edinburgh University Press, 2021; forthcoming in paperback 2022). In connection with this research, I was awarded a Visiting Scholars Fellowship (between August and September 2017) to work with the nineteenth-century rare books and special manuscripts collection at the Armstrong Browning Library, Baylor University, Texas. In January 2022, I returned to Texas as a three-month Research Fellow at the Armstrong Browning Library. During my time there I researched rare primary materials for a four-volumes on Loss, Memory, and Mourning in the Long Nineteenth Century: 1780-1914 (contracted with Routledge's Historical Resources Series). I am co-editor on a number of these volumes and the General Editor of the complete four-volume set.
I am a co-director of the Department's 'Romantic Dialogues and Legacies' research group. I am an advisory board member of the inter-disciplinary Centre for Death and Life Studies based in Durham. I am part of a national network on Romanticism and Ageing, involving Keele University, and the Universities of Lincoln and Nottingham. I am also a member of the Executive Committee of the British Association of Romantic Studies (BARS) and the current editor of the Review for BARS (published twice yearly).
(Office hours in term time: Tuesdays, 1-2pm. Please contact me by email to make an appointment)
Postgraduate Supervision:
I have supervised successful doctoral theses on various aspects of Romantic poetry and poetics, including the thought and writing of Wordsworth, Coleridge, Byron, Keats, Shelley, and Burns.
Research Proposals
I would be interested in proposals on any aspect of Romantic Literature (especially Romantic poetry; philosophy; subjectivity; grief; questions of Romantic legacy and inheritance).
I would also welcome proposals for postgraduate research on any aspect of the inheritance or disinheritance of Romantic writing, culture, and thought in British or American literature of the nineteenth and twentieth centuries.
Research interests
American Literature
Romantic Poetry