Overview
Dr Louisa Egbunike
Associate Professor in African/Caribbean Literature
---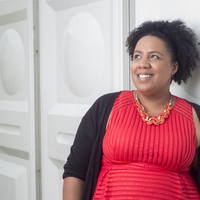 Biography
I joined Durham University an Associate Professor in African literature in September 2020. Prior to that, I taught at SOAS, University of London, Manchester Metropolitan University and City University of London. At City, I founded the Postcolonial Studies Seminar Series, which featured speakers such as Chimamanda Ngozi Adichie, Nawal El Saadawi and Gary Younge. I completed my PhD in African Literary Studies at SOAS, where I am now a Research Associate in the Centre for African Studies.
My recent scholarship centres on the legacies of the Nigeria-Biafra war. I am currently collaborating on a multifaceted project, which has included an international conference, a touring art exhibition and a documentary film series. I am working with the Nigeria Arts Society UK (NASUK) in curating the Legacies of Biafra exhibition. In January 2020, the documentary film In the Shadow of Biafra which I produced and co-wrote with Dr Nathan Richards, was launched after preview screenings in London (National Theatre), Accra (Pa Gya! Festival), and Nairobi (ASAA conference). In the Shadow of Biafra explores how writers have engaged and continue to engage with the war, and features contributions from Chukwuemeka Ike, Nnedi Okorafor and Chimamanda Ngozi Adichie. I am currently working on a monograph which explores the role of the literary and visual arts in the cultural memory of the Nigeria-Biafra war. 
In 2016, the BBC and the Arts and Humanities Research Council (AHRC) selected me as one of their 'New Generation Thinkers'. This has seen me feature on radio programmes and create content for BBC Radio 3, BBC World Service, BBC Radio 4 and BBC Arts Online. I recently contributed to the BBC Four documentary film on African Literature, Africa Turns the Page, produced by, David Olusoga.
I have served on the council of the African Studies Association UK (ASAUK) since 2016, and was appointed Vice President in 2022. I serve on the council for the African Literature Association (ALA) and on the editorial boards for The Journal of African Cultural Studies (JACS) and African Literature Today (ALT). I have also served on the steering committee for the African Studies Association's (ASA) women's caucus, and have thrice been appointed to the judging committee for the Aidoo-Snyder Prize for women's writing (serving as chair of the committee in 2018). I am one of the co-founders and co-conveners of the annual international Igbo Conference in association with SOAS, which was inaugurated in 2012.