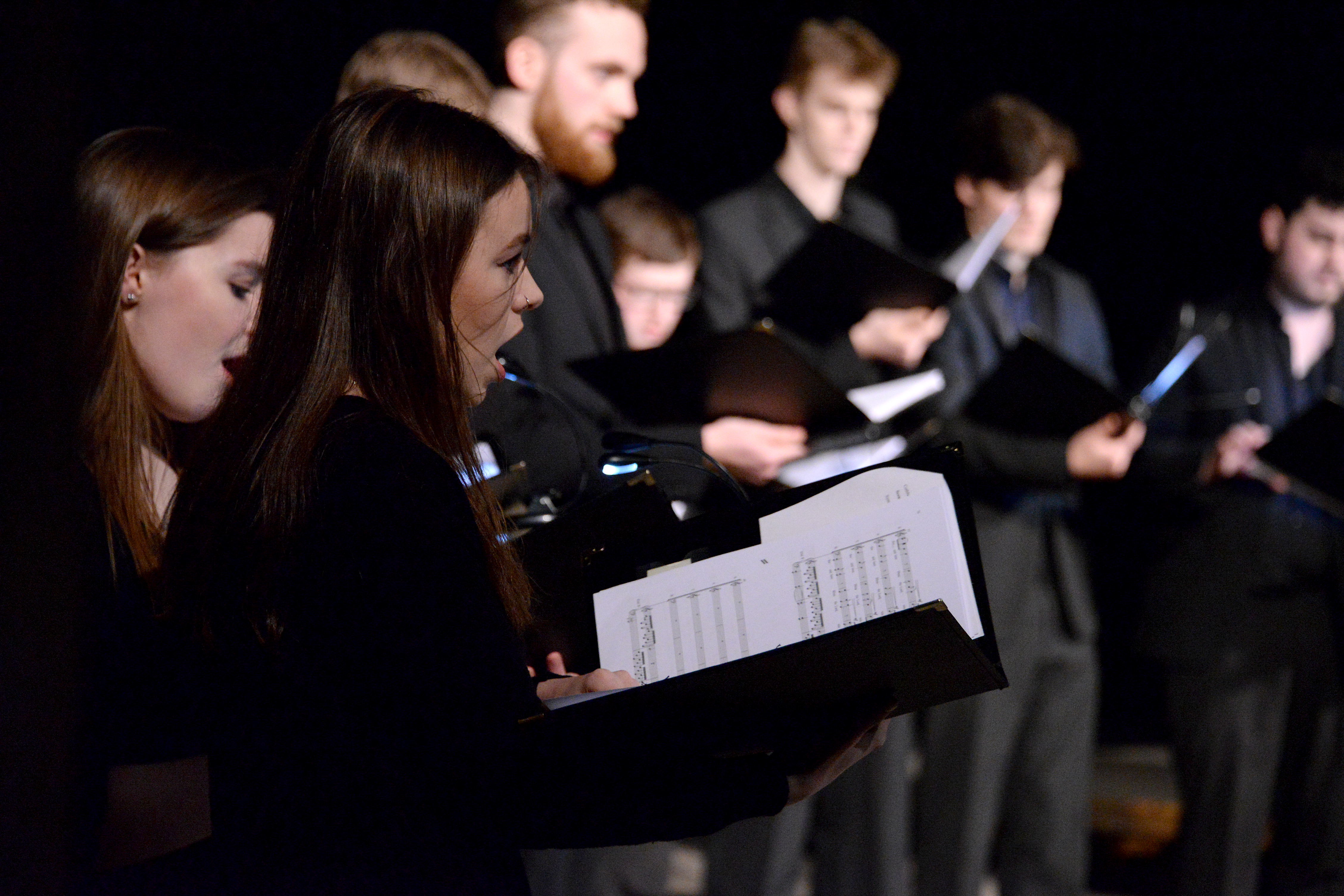 Nothing conjures up nostalgic ideas of a wholesome family Christmas more than the idea of loved ones gathering around the piano to sing carols, or indeed voices raised in church in song on Christmas Day. However, Professor Jeremy Dibble, tells us why carols and carol singing haven't always been seen in such a virtuous light.
Tell us about the tradition of carol-singing
Although we have very few records, carol-singing as a tradition probably goes back many centuries. It was very much associated with the dark Winter Solstice when the nights were longest. 'Wassailing', a tradition of going from door to door exchanging gifts and sharing drink (invariably alcoholic), was commonly practised, especially in the West Country. There are, for example, quite a few 'Wassail' carols connected with Gloucestershire and brewing cider.
Carol-singing was also very much a secular practice, because carols were generally excluded from churches where they did not figure in the liturgy. Indeed, during the Commonwealth period (1647-1660) under Cromwell, the singing of carols was outlawed publicly.
During the eighteenth century, a fair number of carols, such as 'God rest ye merry gentlemen' and 'The holly and the ivy' were published in broadsides and chapbooks, and these proved to be important sources for the heritage gatherers of the nineteenth century. One of the most important of these collectors was the organist, John Stainer, who published his Christmas Carols: New and Old between 1865 and 1878.
Many very old folk carols were also passed on through an oral tradition, were also collected by Vaughan Williams and Cecil Sharp during the first decade of the twentieth century before they were lost to society.
Were carols always associated with church worship at Christmas?
In more modern times, the simple answer is 'no'. Carols and carol services are a relatively new phenomenon.
After the Reformation, the reformed Church of England was strict about what could be sung in church, and metrical psalms, using words from scripture, were sanctioned, but featured 'outside' the liturgy, being sung either before the service began or after it had ended. The one Christmas metrical psalm in the endorsed hymn books (first called the Old Version, and then, in a revised form, the New Version) was 'While shepherds watched their flocks by night' (taken from Luke's gospel). This remained the only authorised hymn until Charles Wesley's 'Hark, how all the welkin ring' (better known today as 'Hark the herald angles sing') became popular towards the end of the end of eighteenth century.
By the late 1870s, things began to change. Through Stainer's offices, carols featured at the end of evensong at St Paul's Cathedral, and clergymen such as Richard Chope and Sabine Baring Gould urged the Church to use carols during the festive season.
What is the oldest Christmas carol, and how would it have originally sounded?
Some of Britain's oldest carols, in English and Latin, go back to at least the fourteenth century and even possibly earlier than that. 'The Coventry Carol' (from an old morality play) and 'Angelus ed virginem' are still very popular carols, and you often hear sung at Christmas the beautiful medieval carols, 'There is no rose of such virtue' and 'Nowell sing we both all and some'.
What is your favourite Christmas Carol and why?
I have lots of favourites – the macaronic carol 'In dulci jubilo' in Pearsall's wonderful eight-part arrangement, Harold Darke's setting of Christina Rossetti's poem 'In the bleak mid-winter' and the English folk carol 'This is the truth sent from above' – but if I have to choose one, it would be Kenneth Leighton's setting of 'The Coventry Carol' ('Lully, lulla, thou little tiny child'). It is a serene lullaby with a truly haunting part for solo treble. I remember hearing during a Christmas Eve broadcast from Cambridge when I was a boy, and my life was changed forever.

Listen to a performance of 'There was a was silence in Bethlehem's fields' by the choir of St Chad's College, recorded in Hild Bede Chapel on 29 January 2011. This carol appeared in Christmas Carols: New and Old as published by Novello (1865-1878).
Find out more
A unique collection of Sir John Stainer's world-famous music, together with historical documents, manuscripts, paintings, letters and photographs, have been donated to Durham University by his descendants. Find out more about the University's internationally important collections.
Study Music at Durham University
Find out about opportunities to be involved in music at Durham