The Durham Alumni chess team has completed its 2022-2023 season in the World Chess League.Live, finishing 5th out of over 100 international teams.
Following the success of the Durham Alumni chess team in the 2021-2022 season, this year's World Chess League.Live saw the team perform extremely well in the face of strong competition from teams around the world.
Led by captain Peter Hornsby, team members Phil Purcell, Kamran Rachlin, Sam Walker, William Taylor and George Gazis qualified for 2022-2023's play-offs for the second consecutive season.
2022-2023 play-offs
The Durham Alumni chess team faced opponents from the USA, South Africa, China, and the Czech Republic, as well as a number of other UK-based teams including Reading and Oxford Universities in a season with 108 other entrants.
In the final round of the league, our alumni faced the very skilled TJ Valašská Bystřice team from the Czech Republic, and quickly found themselves 2-0 down against their opponents who outrated them on all six boards. However, they fought back in stunning style to take a 6-5 lead, and Dr George Gazis from the Department of Classics and Ancient History held his nerve on board 1 to clinch a second draw against Fide Master and Czech International Josef Obšivač, sealing a thrilling 6½-5½ win for Durham Alumni and qualification for the play-offs in the process.
The play-offs were an even tougher challenge, and although the team were narrowly knocked out by Dundee City in the quarter final, they battled valiantly and did Durham proud.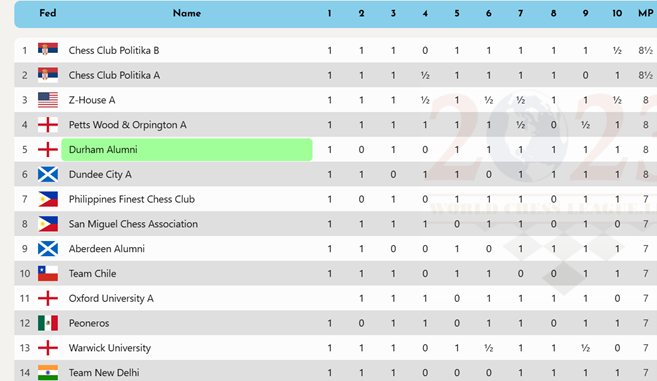 First match of 2023-2024
Their 2022-2023 performance put them in good stead for the start of the 2023-2024 World Chess League.Live season as they crushed Team New Delhi 9.5-2.5 in their opening game.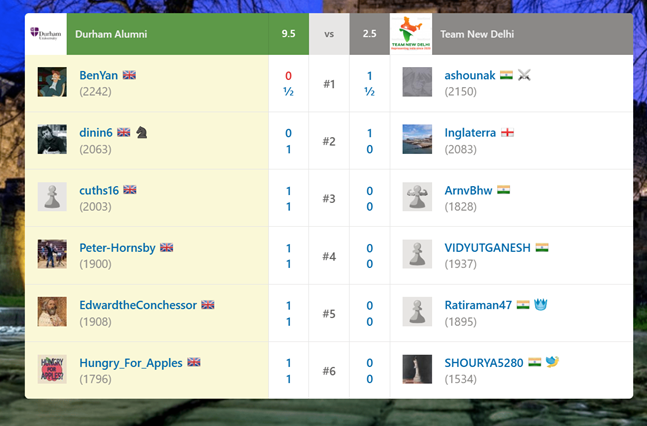 We look forward to following the team's progress in the new 2023-2024 league and wish them every success!
About the team
The Durham Alumni chess team was created to play online matches when the Covid-19 pandemic hit as a way for friends to keep in touch and compete against high profile opponents in a world league set up by Peter Hornsby. The team and friends now regularly meet at in-person tournaments across the UK in addition to their online matches.
The team consists of:
Peter Hornsby - Combined Social Sciences, St Cuthbert's Society, 2013-16
Phil Purcell - Natural Sciences, St Cuthbert's Society, 2013-16
Kamran Rachlin - Natural Sciences, Hatfield College, 2016-2020
Sam Walker - History, University College, 2013-17. Sam is also a former British Youth Chess Champion
William Taylor - Natural Sciences, College of St Hild & St Bede, 2008-12
Dr George Gazis - PhD Greek Literature / Homeric Studies, 2010-15; current Associate Professor in the Department of Classics and Ancient History
Kit (Chris) Gallagher - Physics (Theoretical), University College, 2010-14
Valentina Futoryanova - Executive MBA, St Aidan's College, 2012-14
Daniel Waller - Mathematics, Josephine Butler College, 2010-14
Ned Carmichael - Mathematics, Hatfield College, 2018-22
Szymon Palucha - Natural Sciences, Hatfield College, 2014-18
Get involved
The team welcome all ages and abilities. If you are a Durham alumni interested in joining, contact team captain Peter Hornsby.
-----
Find out more
View the results from the 2022-2023 World Chess League.Live
Follow Durham Alumni chess team's progress in the 2023-2024 season and find out more about the World Chess League.Live
Read about the team's performance from the 2021-2022 season