Historic ceremony to welcome Dr Fiona Hill as our 13th Chancellor
29 June 2023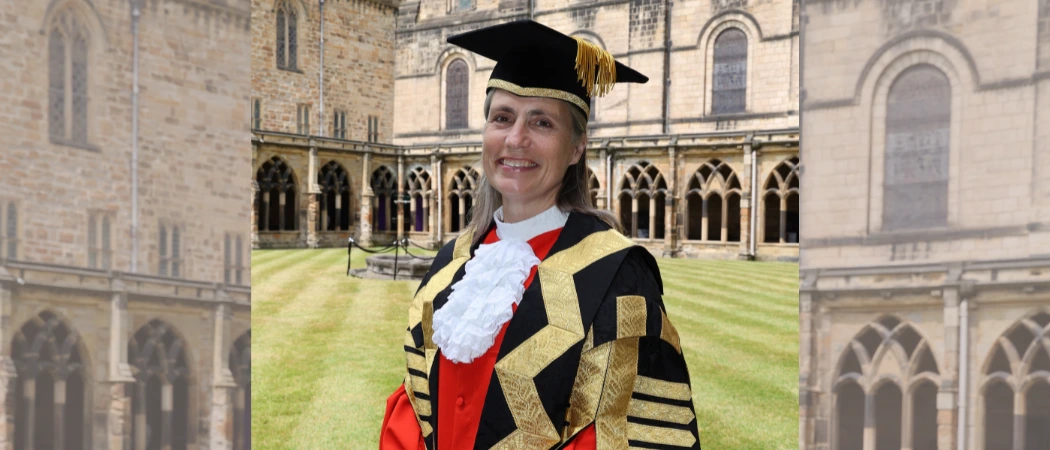 We have officially welcomed acclaimed foreign affairs expert Dr Fiona Hill as our 13th Chancellor.
An historic celebration
Fiona was installed as the ceremonial head of the University in a historic ceremony in the inspiring surroundings of Durham Cathedral.

The outgoing Chancellor, opera singer Sir Thomas Allen, took part in the ceremony to welcome his successor. University staff, students, alumni and supporters, together with representatives from local schools and colleges, also attended the celebration.
Fiona's inspiring career
Fiona grew up in Bishop Auckland, near Durham, and through her career she has become an authority on Russian and European geopolitics and providing advice to US presidents including Barack Obama and Donald Trump.
She has a thirst for learning from an early age and is passionate about education, social mobility and giving back to the community.
Fiona said: "I am very proud to be from the North East of England and deeply honoured to take on the role of Durham University Chancellor.
"My life has literally taken me from coal-house to the White House. For me education is the beating heart of opportunity and with it, anything is possible.
"I hope that as Chancellor I can inspire and empower young people from all walks of life to fulfil their potential."
Inspirational Chancellor
The Chancellor is a high-profile position that will see Fiona act as a global ambassador for the University, as well as presiding over key events and meeting staff and students.
Professor Karen O'Brien, our Vice-Chancellor said: "Dr Fiona Hill has built an outstanding career in foreign policy whilst retaining a pride in her family upbringing and the values instilled in her as she grew up in County Durham.
"We hugely value her commitment to education for all and her complete belief in the transformational power of education – a belief that is central to the values of Durham University.
"Fiona will be an inspirational Chancellor, leading by example and supporting others through her contact with our community."
Fiona is, and will remain, a senior fellow in the Center on the United States and Europe, in the Foreign Policy programme at the Brookings Institution, a non-profit public policy organisation based in Washington DC.
Prestigious role
Being Chancellor is a prestigious role. Previous Chancellors of the University, which was founded in 1832, include opera singer Sir Thomas Allen, author Bill Bryson, actor, film maker and writer Sir Peter Ustinov and ballerina Dame Margot Fonteyn.
Find out more