Overview
Mr Jesus Bustamante Fernandez
Research Postgraduate (PhD)
---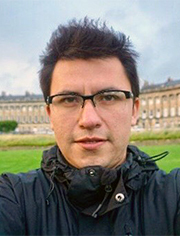 Biography
Background
I am a physical geographer with strong interest on sea level hazards. My approach in this realm is achieved through the analysis of coastal stratigraphy and landform assemblages to interpret (pre)historical extreme events and processes respectively.
I got my MSc in Risk, with major emphasis on natural hazards, at Durham University (IHRR). The topic of my dissertation was "Hazard assessment of coastal cliff retreat in Norfolk: spatial and temporal analysis centred on the extreme winter season of 2013/2014".
I also obtained a Postgraduate Diploma in Geomatics from the Research Centre for Geospatial Information Sciences (CentroGeo, Mexico). During my Bachelor Degree in Geography, at the National Autonomous University of Mexico, I especialized in Geomorphology. My thesis was titled: Coastal morphodynamics and its implications on sea level rise impacts in the southern coast of Acapulco, Guerrero.
Research interests
Coastal hazards
Relative sea level changes
Coastal stratigraphy
Geomorphological mapping
Research topic
My PhD research project aims to investigate Holocene earthquake sequences along the Pacific coast of Mexico to understand the behaviour of the Rivera plate megathrust fault. To achive this aim, I seek to identify the stratigraphic signature (coseismic contacts) of Holocene earthquakes imprinted in estuarine sediments, produced by abrupt relative sea-level (RSL) changes. These stratigraphic records will provide evidence of coastal uplift or coastal subsidence, whose magnitude will be estimated using quantitative micropaleontological methods. Lastly, a robust chronological model of earthquake sequences is going to be built in order to obtain ages and recurrence intervals of megathrust earthquakes.