Staff Profile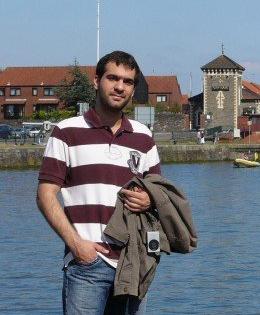 Georgios Karagiannis,
PhD University of Bristol
Telephone: +44 (0) 191 33 42718
Room number: CM126b
(email at georgios.karagiannis@durham.ac.uk)
Research interests
I am a Bayesian statistician with particular research interests in the development of methods for (i.) statistical modelling to address Bayesian computer model calibration and uncertainty quantification (UQ) problems; (ii.) statistical computing to facilitate inference in complex statistical models; and (iii.) machine learning.
A number of my recent research projects/developments address modern statistical challenges such as `Big Data' and High-Dimensional problems one can meet in real applications, while they can be implemented in parallel computing environments.
Publications: https://www.maths.dur.ac.uk/~mffk55/publications.html
Some areas: https://www.maths.dur.ac.uk/~mffk55/research.html
Research Groups
Department of Mathematical Sciences
Probability & Statistics: Statistics
Probability & Statistics: Statistics
Probability and Statistics
Research Interests
Bayesian statistics
Machine learning, and Big-data analysis
Computational statistics, and Markov chain Monte Carlo
Uncertainty Quantification
Teaching Areas
Bayesian statistics III/IV --2017, 2019 (25 hours/year.)
Statistical methods III --2021 (21 hours/year.)
Statistics I --2017, 2019 (21 hours/year.)
Topics in statistics III/IV --2018, 2020 (25 hours/year.)
Selected Publications
Journal Article
Conference Paper
Supervises
Indicators of Esteem
Selected Grants
2020: London Mathematical Society Undergraduate Research Bursaries
2017: London Mathematical Society Undergraduate Research Bursaries