Sociology Department Staff
Professor Vikki Boliver
Contact Professor Vikki Boliver (email at vikki.boliver@durham.ac.uk)
Member of the Durham University Evidence Centre for Education (DECE)
Member of the Centre for Global Higher Education (CGHE)
Biography
***NEW*** DECE Research Briefing on Using contextualised admissons to widen access to higher education https://www.dur.ac.uk/resources/dece/ContextualisedHEadmissions.pdf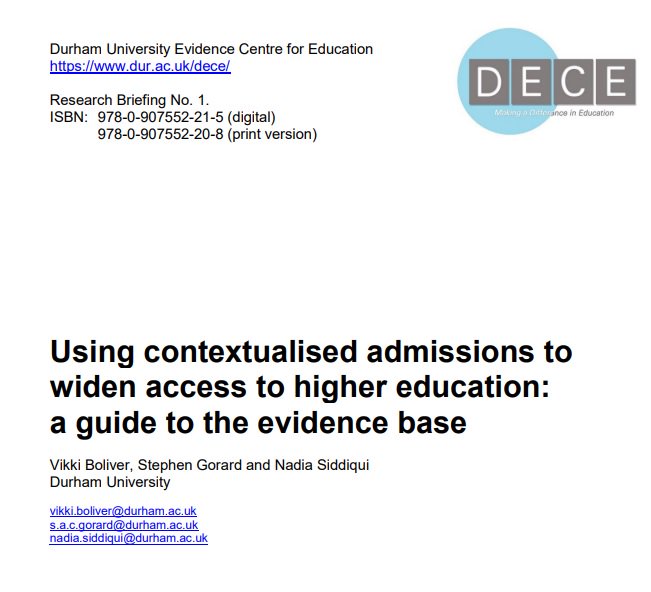 Vikki joined the Department of Sociology at Durham in September 2011. Before coming to Durham, Vikki studied Sociology at Leicester University (BA), Cambridge University (MPhil) and Oxford University (DPhil) and was a Departmental Lecturer in Sociology at Oxford, a Nuffield Foundation Postdoctoral Research Fellow and Visiting Lecturer at Harvard, a British Academy Postdoctoral Research Fellow at Oxford, and a Sociology Lecturer at Bath Spa. At Durham Vikki teaches the first year undergraduate research methods module, Introduction to Research, and the masters level module, Quantitative Research Methods in the Social Sciences. In 2014 she was awarded a Durham University Excellence in Learning and Teaching Award.
Vikki's current research focuses on social inequalities of access to higher status universities, and on patterns and processes of social mobility across multiple generations. She welcomes enquiries about supervision from students who want to write an undergraduate, masters or doctoral dissertation on something to do with educational inequality or social mobility, or who are keen to use quantitative research methods.
To request a copy of any of my publications please email me at vikki.boliver@durham.ac.uk
Read more about contextualised admissions in the HEPI/Brightside publication Where Next for Widening Participation and Fair Access? New Insights from Leading Thinkers (pp23-27).
Publications
Journal Article
Chapter in book
Book review
Newspaper/Magazine Article
Other (Digital/Visual Media)
Report
Boliver, V., Crawford, C., Powell, M. & Craige, W. (2017). Admissions in Context: The use of contextual information by leading universities. London, Sutton Trust.
Boliver, V., Gorard, S., Powell, M. & Moreira, T. (2017). Mapping and evaluating the use of contextual data in undergraduate admissions in Scotland. Scottish Funding Council.
Working Paper
Indicators of Esteem
Research Interests
Educational inequalities, especially social class and ethnic inequalities of access to higher status universities
Social stratification and mobility, in particular patterns and processes of social mobility across multiple generations of family members
Quantitative research methods
Applied and policy-relevant research
Research Projects
Evaluating the use of contextual data in undergraduate admissions
Mapping and evaluating the use of contextual data in undergraduate admissions in Scotland
The impact of a market in tuition fees on fair access to more prestigious universities and subjects
Teaching Areas
Introduction to Research

(60 hours/year.)

Quantitative Research Methods in the Social Sciences

(20 hours/year.)

Societies in Transition

(4 hours/year.)
Supervises
Media Contacts
Available for media contact about:
General policy: Access to higher education; social class and ethnic inequalities in education; social mobility; quantitative research methods
Sociology: Access to higher education; social class and ethnic inequalities in education; social mobility; quantitative research methods
Related Links