News
New Podcast: 100 Moments That Rocked Computer Science
(8 June 2021)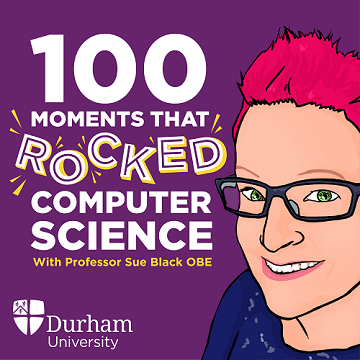 Join leaders from the worlds of science and technology and experts from our Computer Science department for a new podcast series exploring '100 Moments that Rocked Computer Science' - streaming now!
Renowned guests
Our own Professors Sue Black OBE and Gordon Love are joined by a host of special guests including Stemettes creator Dr Anne-Marie Imafidon MBE; mathematician, teacher and broadcaster Bobby Seagull; internet search engine pioneer Alan Emtage; and Professor Dame Wendy Hall, one of the world's leading computer scientists.
Megan Smith, former Chief Technology Officer to US President Barack Obama and Sir Dermot Turing, nephew of Alan Turing, part of the British team that broke the Enigma code during the Second World War make up this incredible guest list for the first six part series.
Join them as they discuss some of the most important computer science innovations and events that have shaped the world we live in: from the birth of the internet search engine to the very first computer programmes and the dawn of the information age.
Continuing to adapt
This brand new broadcast is the latest in a series of initiatives that Professor Black has developed in order to engage and interact with students and the wider community. We have also hosted virtual sessions with leading technology figures such as Dr Neil Hunt, former Chief Product Officer of Netflix and a Durham graduate.
Access the podcast
The 100 Moments that Rocked Computer Science podcasts is now available through all major streaming services – click here to listen and subscribe.

Follow @100momentsCS on Twitter #100moments.
Find out more
Durham University's Department of Computer Science is placed number one for graduate employability in the UK by The Times & Sunday Times Good University Guide and is currently ranked 5th in the UK by The Complete University Guide.
It has held the Athena Swan award in recognition of its commitment to advancing and promoting women's careers since 2018 – much of which is supported by a range of University and wider initiatives set up by Professor Black including the #TechUP programme and #DUWiT group.
Find out more about studying Computer Science at Durham.
Find out more about Tech Up and Durham University Tech Up Women.