News
Graduates crowdfund over £1m to launch the UK's first green debit card
(28 April 2021)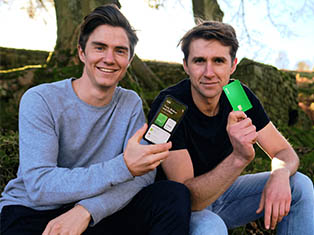 Two of our graduates Peter Kirby (Engineering, University College, 2011-15) and William Smith (Engineering, University College, 2011-15) have been working with colleagues at Durham to launch Tred.
Tred is the UK's first and only green debit card that helps users spend more sustainably. Tred tracks your carbon footprint, helps you reduce your impact, and gives you a simple way to offset the rest. And every time you spend, you will help Tred plant trees: with their profits funding reforestation projects, not fossil fuels.
The Idea
Everything we buy has an environmental cost, from a daily coffee to the weekly food shop.
One in two of us want to make more socially responsible decisions with their money and as many people are searching 'green bank' in the UK as are searching 'mobile bank'.
Peter and Will are crowdfunding to launch their green debit card to the public and, at the time of writing, they have raised over £1,000,000, far surpassing their initial target of £400,000.
Entrepreneurship at Durham
Will spoke to us about his time at Durham and working with the Business School and Marek Tokarski and his team in Careers and Enterprise:
"We'll always have a soft spot for Durham. Pete and I met nearly a decade ago during freshers week and we've been working together ever since. In our early days, we used Durham's Business School to access grants and coaching to bring our idea to life.
"A lot of the people we're now working with could be traced back to Marek and the team. If you've got an idea and are a student or grad, get in touch."
At Durham, we work with our students and graduates with any idea at any stage of development. Careers & Enterprise offers a comprehensive package of support to help you achieve your goals.
No matter what your idea is or progress you've made to date, we provide everything you need to launch a successful business or to become self-employed. We believe that inspiring our people to do outstanding things at Durham enables Durham people to do outstanding things in the world.
Quick Links
Careers and Enterprise: Entrepreneurship