Staff
Academic Staff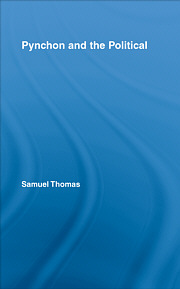 Dr Samuel Thomas
Telephone: +44 (0) 191 33 46577
Room number: ER 258
(email at samuel.thomas@durham.ac.uk)
Before arriving in Durham some years back, I completed my doctorate at the University of Sussex (where I also worked as a tutor in English and Cultural Studies). My research is mostly focused on resistance politics in fiction from the Cold War era to the present day, especially the work of Thomas Pynchon. My first book, entitled Pynchon and the Political, was published by Routledge in 2007 (available in paperback as of 2012).
In August 2013, I organised 'International Pynchon Week' here in Durham and I have also spoken about Pynchon on CBC's 'Sunday Edition': http://goo.gl/v8Y1MX
My more recent work has a distinctly trans-atlantic and trans-hemispheric bent, exploring Pynchon's engagement with national/regional cultures beyond the borders of the USA. This research includes articles on the representation of the Balkans in Against the Day and on Argentine cultural politics in Gravity's Rainbow (backed up by some unique archival sleuthing carried out in Buenos Aires).
In addition to this, I have strong interests in critical theory and in the depiction of terrorism in fiction and film. In the latter area I have written on topics such as suicide bombing and the infamous 'Carlos the Jackal'.
I am currently in the process of starting a large new project on region, ecology and labour history in contemporary US crime fiction (initially focusing on Elmore Leonard's Kentucky-set 'Raylan' stories and the TV series Justified).
Teaching
My teaching is mostly concentrated on the American Fiction and Literary Theory modules. I also run a special topic called Fictions of Terrorism and have just introduced a new Masters option - Blood & Soil: Regionalism and Contemporary US Crime Narrative - which replaces a long-standing module devoted to Pynchon.
I supervise (and have supervised) a number of PhDs and I welcome enquiries from anyone interested in working on a project related to my research areas.
Research Groups
American Studies
Critical Theory
Research Interests
Thomas Pynchon
Terrorism in Fiction and Film
Critical Theory
Argentina and Anglo-American Fiction
Contemporary US Crime Narrative
Publications
Authored book
Book review
Journal Article
Newspaper/Magazine Article
Support Staff