Welcome to Durham University Astronomical Society

The Exec 2013-2014

Saturday, 31 August 2013

 

Meet the new AstroSoc Exec 2013-14!

 




Welcome To A New Year

Tuesday, 13 August 2013

 

Hello and welcome to the AstroSoc website!

Here you can find details of what the society gets up to, including upcoming events, our telescopes, observing logs by society members, an image gallery, details of the current exec, and more!




If you are a fresher starting at Durham this year and are thinking about joining the society, our first observing evening of Michaelmas term will be Freshers' Obs on Sat 12th Oct, 7:30pm. Please feel free to come along and give us a go, especially if you've never tried astronomy before! Our Obs Officers will be on hand to show you the wonders of the night sky through a selection of the society's telescopes. On normal weeks, we meet every Saturday at 8pm outside the Physics Department, and anyone is welcome to come along throughout the year.

If you happen to be more of an armchair astronomer, look out for the society's series of fortnightly talks, featuring guest speakers from the physics department and further afield.




To those of you who are (like me) old-timers in the society, I look forward to seeing you again next term!




Clear Skies,

Mike

President 2013/14
Written by Social Secs
Saturday, 26 October 2013 23:15
The annual AstroSoc Halloween party will be on
Wednesday the 30th of October
, starting at
7.30pm
in the
Kingsgate bar
in the DSU. This is a perfect opportunity to get to know everyone in the society a bit better, unwind and have some fun; we kick off with a spooky astronomy quiz followed by plenty of other Halloween games and snacks.
The fancy dress theme is

Halloween/Sci-fi

with an Astronomical twist; don't worry if you don't have anything suitable however as there will be backup costumes available on the night (which may or may not involve face painting!). We will be in the DSU

until 10pm

so if you can't make the start please feel free to join us throughout the evening.


Don't worry if you haven't managed to make it to any of our previous events, everyone is welcome; we hope to see you there!

Charlotte and Jasmine
Social Secretaries
Last Updated on Saturday, 26 October 2013 23:18
Written by Michael Wilby
Tuesday, 13 August 2013 18:53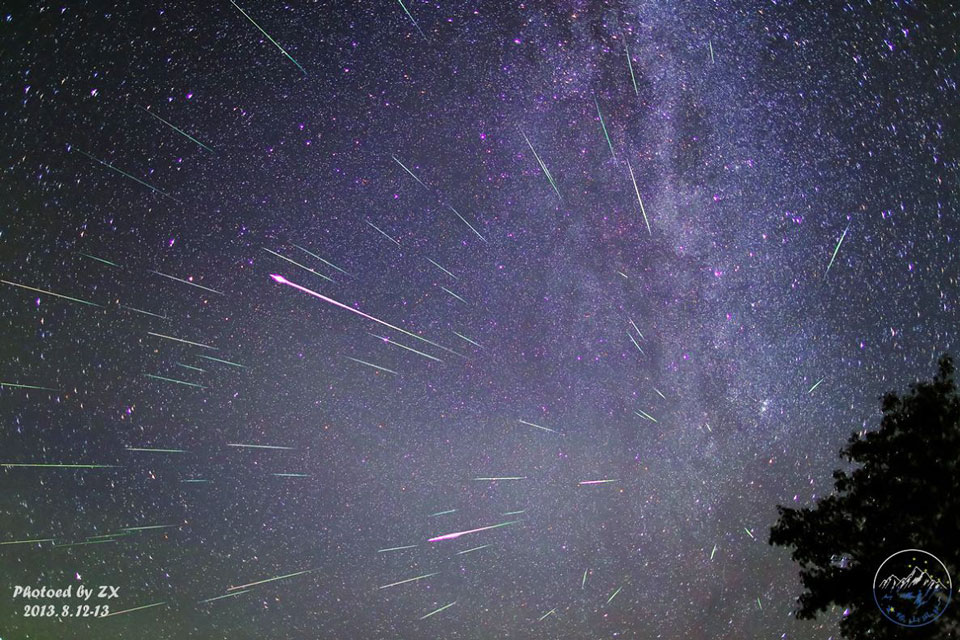 NASA
Picture of the day 13/08/2013                                     NASA Picture of the day 21/08/2013
The Perseid Meteor Shower is now subsiding
following
a high peak of
120'mph'
(that's meteors per
hour, or more officially
the Zenithal Hourly
Rate) early on Tuesday 13th August.
Last Updated on Thursday, 17 October 2013 18:54
| | | | |
| --- | --- | --- | --- |
| Astronomy on a sailing yacht (21 Sept 2012) | | | |
Written by Rachael Sharp
Tuesday, 25 September 2012 17:13
I hadn't set out to do any stargazing this evening; in fact astronomy was completely out of my head at the start. I was on a sailing yacht leaving North Shields with a group of other young people and as we were going through the lock to leave a brilliant light flashed up in the sky, did a graceful arc and then fizzled out. At first I just passed it off as a firework, as it looked the same as one that has just been set off and not exploded yet but it stayed there for a good 10 seconds, therefore proving itself as something different. It was a definite sense of déjà vu as a very similar occurrence had happened during an Astrosoc observing session back in April, where we all took the bright orange ball of flame to be first a firework and then a plane on fire before realising that it must have been a fireball.
Shortly after the fireball we left North Shields and headed up the River Tyne and out into the North Sea. Being at sea meant that the light pollution was very low and the clear skies gave a great night's naked eye stargazing. The main sights were Jupiter and Venus although we did spend a fair while looking at constellations such as Ursa Major and Orion and then star hopping to Polaris and Sirius. The Pleiades was also viewable later on and the position of the Andromeda Galaxy found, but due to the lack of binoculars we couldn't actually look at it. The final sight of the night (around 2am) was the Milky Way which for many was the first time they'd seen it and due to the cold, crisp condition of the atmosphere it looked even more spectacular than normal, a brilliant way to end a very good impromptu night of astronomy.
Rachael Sharp
Last Updated on Tuesday, 25 September 2012 17:23
| | | | |
| --- | --- | --- | --- |
| Dartmoor Camping and the Summer Milky Way (22nd July 2012) | | | |
Written by Michael Wilby
Thursday, 26 July 2012 16:36
After a truly miserable string of weather to start off the summer, I took the first clear opportunity to reacquaint myself with my Skywatcher 114 telescope and do some astro-imaging using the society's Canon EOS 350D DSLR Camera. There are few places in the UK with darker skies than Dartmoor National Park and since I live only a 30 minute drive away, this was the perfect place to go for a serious night of astronomy. After picking a site I grabbed my gear and tent before heading up for the night; unfortunately observing through until dawn would leave me in no fit state to drive home! The rocky outcrop of the appropriately named Top Tor offered superbly clear
horizons, and although cloud banks were visible low in each direction, they steered well clear and it remained beautifully clear; despite the current light summer nights this was undoubtedly the best sky I have seen in my life!
Being set up in time for sunset meant I had a couple of hours to amuse myself before it got properly dark, though both Saturn and the waxing crescent moon close to the western horizon provided perfect early targets before they sank out of view. As the red light of sunset faded the beautiful summer Milky Way began to emerge, and by 11pm had reached its full glory; to the naked eye the dust lanes were easily visible along its length and the sprawling star field provided such a wealth of detail that I spent much of the night just lying back and taking it all in! Being at higher altitude with low horizons meant that more of the galactic central region was visible than is typical in the UK; the entire constellations of Sagittarius and Scorpius were visible and some relatively short exposures mounted on my equatorial tripod revealed exquisite detail that is just not visible with any sort of light pollution.
While my telescope has served me very well over the last 5 years for naked eye observing, it is only a beginner's scope and sadly not up to much in the way of astrophotography. While it did manage to image the moon and Saturn to reasonable quality, my attempts to capture
the Lagoon nebula (M8) and the Andromeda galaxy (M31) mostly resulted in star trails due to the poor tracking quality of my little stepper motor, and on clean shots the telescope's poor coma resulted in off-axis smearing of stars. In short, I think it may be time to upgrade to a better model if I can afford it! The dark skies more than made up for this shortcoming however, as the same targets appeared beautifully at low magnification, and I went on to image the Double Cluster (NGC884) between Perseus and Cassiopeia before attempting some star trails to the North. Around 2:30am the camera battery died and I took this as a sign to pack up for the night, though with two more hours of darkness it was extremely difficult to tear myself away!
The full set of images from the night can be found on my Flickr page (http://www.flickr.com/photos/mwilby/), dedicated to astrophotogrpahy. If you live near a dark sky region, I would seriously advise you to head up there for a night just to see the wonders of the Milky Way; you don't need to lug a telescope there to appreciate it! Also, if any society member does any observing outside AstroSoc's events, please send us an Obs Log ( This e-mail address is being protected from spambots. You need JavaScript enabled to view it ) and we will put it up on the website!
Mike Wilby
Astrophotographer 2012/13
Last Updated on Thursday, 26 July 2012 16:41
«
Start
Prev
1
2
3
Next
End
»
Page 1 of 3